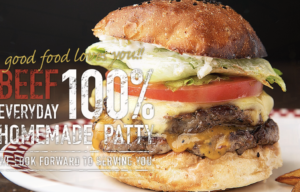 Munch's Burger Shack is a hamburger shop in Minato-ku, Tokyo.
When President Trump visited Japan in November 2017, it became a hot topic as a hamburger being served.
It started as a mobile store in 2006 and quickly became a popular store.
Munch's is slang which means addiction.
The patty that creates the unique texture and flavor of meats is a "Satisfy 120% of meat lovers." Munch's dish.
Not only the patty, but the homemade bacon smoked with the pork belly prepared for 5 days is superb!
Special attention to patties and burgers
The owner describes his passion for patties as follows.
I think the main part of hamburger is meat.
The most important thing in creating the hamburger's patty is using no binding agent and using an original blend of 3 parts.
Made from high-quality Angus US beef from a US-designated manufacturer and factory.
The original taste and texture of the meat are brought out to the maximum by disassembling the meat from a lump with a knife.
It's mainly red meat without adding beef fat, so it's not heavy compared to Japanese beef.
I would like you to taste the real meat juice that comes out of the meat when you bite it.
They change raw potatoes into French fries at the restaurant.
They also serve handmade smoked bacon, chili beans, and sauces, all made over 5 days.
The buns are made by a professional chef at Mineya, which I order and use my recipes.
If you hold it in your hand, lightly press it, and eat it, you will understand the deliciousness of our hamburger.
Our hamburger is a delicious hamburger that is particular about meat.
They will continue to pursue even more delicious hamburgers, always in the best condition and will do continue to do our best to provide you with the service.
Particular about the homemade
The flavor and sweetness of the meat that comes out of the thick patty as you bite it.
The sauce that brings out the taste of the patty and smoked bacon.
French fries as a side dish.
At Munch's Burger, they are all handmade in the shop.
They are particular about homemade dishes.
This is the conclusion reached after the owner who loves patty thought about it.
Menu
Hamburger – 21 types
Their special burger has tomatoes, lettuce, honey mustard, mayonnaise, crushed onions, and relish. Also comes with homemade french fries.
During President Trump's visit to Japan, he presented the "Colby Jack Cheeseburger" which used mild taste American Colby Jack cheese.
100% of the beef produced in the United States is cut into fine pieces using high-quality Angus beef. If you do this, it will taste like a steak.
AVOCADO CHEESEBURGER ¥1,350

*BACON CHEESEBURGER ¥1,500

*MUSHROOM & MOZZARELLA BURGER ¥1,400

*CHILL CHEESEBURGER ¥1,650

*BBQ BACON CHEESEBURGER ¥1,650

*2 MCW BURGER ¥2,040

*BACON EGG CHEESEBURGER ¥1,600

*DOUBLE CHEESEBURGER ¥1,800

*SOUR CREAM AVOCADO BURGER ¥1,380

*CHEDDAR CHEESEBURGER ¥1,200

*MOZZARELLA CHEESEBURGER ¥1200

*COLBY JACK CHEESEBURGER ¥1,200

*PEPPER JACK CHEESEBURGER ¥1,200

*GOUDA CHEESEBURGER ¥1,200

*QUATTRO CHEESEBURGER ¥1,320

*VEGE BURGER ¥1,050

*BBQ BURGER ¥1,230

*CHIL BURGER ¥1,530

*TERIYAKI BURGER ¥1,200

*GRILL ONION BURGER ¥1,180

*STANDARD BURGER ¥1,080
12 toppings
*CHEDDAR CHEESE ¥120

*MOZZARELLA CHEESE ¥120

*COLBY JACK CHEESE ¥120

*GOUDA CHEESE ¥120

*PEPPER JACK CHEESE JPY

*EGG ¥100

*GRILL ONION ¥100

*AVOCADO ¥150

*SOUR CREAM ¥150

*SMOKE BACON ¥150

*MUSHROOM ¥200

*CHIL BEANS ¥450

*PATTY \480
Dip Mini Size
You can add toppings to homemade french fries.
CHIL BEANS ¥200

*COLESLAW ¥200

*MELT CHEESE ¥180

*TARTAR SAUCE ¥180

*HONEY MUSTARD ¥150

*MAYONNAISE ¥150

*SOUR CREAM ¥150

*BBQ SAUCE ¥150

*SALSA SAUCE \150
Side menu
*FRIED CHICKEN ¥580

*ONION RINGS S size ¥350/L size ¥650

*CHILL CHEESE FRIES ¥880

*FRENCH FRIES S size ¥280/L size ¥540

*SMOKE BACON SLICE ¥680

*CAJUN POPCORN SHRIMP ¥980

*ASSORTED CHEESE ¥500

*MIXED NUTS \380
Salad
*ROAST BEEF SALAD ¥1,580

*AVOCADO & BACON CAESAR SALAD ¥1,380

*CAESAR SALAD ¥950

*MUNCH'S GREEN SALAD \880
Soup
*CLAM CHOWDER ¥650

*MUNCH'S GUMBO SOUP ¥650
Special menu
*NACHOS ¥580

*COLESLAW ¥580

*MASHED POTATOES with chicken Gravy ¥580

*MACARONI CHEESE ¥680

*CREAM SPINACH \680

*ROAST BEEF SALAD ¥1,580

*BUFFALO WING 3P ¥600/6P ¥1,100

*HOMEMADE LOIN HAM & CHEESE ¥580

*PICKLES ¥500

*POPCORN SHRIMP \980
Sweets
*APPLE PIE & ICE CREAM with CARAMEL SAUCE ¥650

*MUNCH ' S NY CHEESECAKE ¥600

*HOT FUDGE SUNDAE ¥780

Ice cream

*VANILLA ¥540

*with CHOCOLATE SAUCE ¥650

*with CARAMEL SAUCE ¥650
Review
*A hamburger made by cutting a lump of meat is a world standard and a famous hamburger shop in Japan.
*The patty is mainly made of red meat, and the texture is strong, so you can enjoy real meat juice.
*Both tomato and lettuce are crisp and very fresh!

The patty is so juicy that the meat juice drips out!
*Anyway, the patty is delicious.

It's just like eating meat, and bacon is the best!
*It has mustard, crushed onion, and relish, mayonnaise sauce, etc.

What I felt was the simple deliciousness of the meat!

The flavor of the patty is very strong.
*The meat was so delicious that the buns were not impressive.

Instead of going there to eat a delicious hamburger,

It might be right to go and eat delicious meat.
*There was a long line and the restaurant looked very busy, but everything was good.

Overall, I had a very good impression that it was a good space.
Info | Munch's Burger Shack
【business hours】

【Tue ~ Fri】

Lunch 11: 00 ~ 14: 30 L.O

Dinner 17: 30 ~ 20: 30 L.O

【Sat 】

11: 00 ~ 20: 30 L.O

【Sunday and holiday】

11: 00 ~ 16: 00 L.O

【Closed】

Every Monday (Open on holidays. The next Tuesday is a substitute holiday.)

1st Tuesday (Excluding the months and holidays when there are long holidays such as New Year holidays and Golden Week holidays)

【Tel】

050-5868-4607

【Address】

Shiba 2, Minato-ku, Tokyo -26 i -1, smart building 1F, 2F