Afternoon tea is a word derived from British food culture.
In the United Kingdom, where tea is produced, there is a custom of eating a menu of scones, cakes, and so on from 14 o'clock to 17 o'clock along with the famous tea. In Japan, it is the time of "Snack".
By the way, the name changes to "Cream tea" right after lunch and "High tea" after evening.
The big difference between the British "Afternoon Tea" and the Japanese "Snack" can be seen in the amount of tea time they spend.
Afternoon tea is a slow, relaxed way of talking to friends, family, and colleagues.
Recently, the number of hotel lounges where you can enjoy afternoon tea elegantly has increased.
Recently it is famous for enjoying elegant afternoon tea.
I will introduce the afternoon tea of Peninsula Tokyo.
Peninsula Tokyo
Location
This hotel boasts a perfect location facing the Imperial Palace and Hibiya Park.
In the hotel category in the U.S. "Forbes Travel Guide", it received the highest rating of 5 stars for 3 consecutive years since 2017, and in the Tokyo hotel category of "World Best Awards" selected by the readers of "Travel + Leisure", it was the top hotel in Japan for 2 consecutive years since 2016.
The Lobby
"The Lobby" is a spacious dining space on the 1st floor of Peninsula Tokyo where you can enjoy afternoon tea.
The space created by interior designer Yukio Hashimoto is designed to be dynamic and delicate, using a traditional thousand lattice, combining a Japanese taste with the Peninsula Standard.
The sofa in the center of the lobby is made of fabric by Kyoto Nishijin Textile Craftsman Saito Kamitaro, giving a modern and stylish expression to the craftsmanship of the craftsmen.
In addition, the bamboo art placed at the back of the main entrance was created by Hama Eisen, a contemporary ikebana writer, and has become a symbol of the lobby.
The lobby features a bright and open space, and chandeliers with images of fireworks and fireflies in the sky are displayed.
In the center, large cherry trees are displayed in spring and autumn leaves in autumn.
One of the charms of the Lobby is that you can enjoy the beautiful changes of the four seasons in Japan and the elegant tea time while enjoying the live music that flows through the lobby.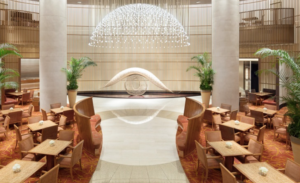 Characteristic of afternoon tea
1 British-style traditional style and seasonal changes
"Afternoon tea" which is loved by many fans among various menus is famous.
The afternoon tea served in the lobby is inspired by the traditional British style afternoon tea.
In an open space, even first-time diners can enjoy authentic afternoon tea.
I recommend it because it changes to cocktail time at night and creates a slightly different atmosphere.
The afternoon tea that you can enjoy in Peninsula Tokyo changes ingredients every season and you can enjoy sweets made with seasonal fruits and sandwiches made with fresh seasonal vegetables.
The colorful petit cakes appear on the stand.
This stand is full of charm, so you can't decide which one to start with.
Snacks include seasonal sandwiches, buns and homemade scones.
The scones with clotted cream and jam go well with tea.
You can enjoy the menu unique to a high-class hotel with a mixed sandwich that uses crab and shrimp abundantly.
In spring, the "Strawberry Afternoon Tea" was held with strawberries as the main ingredient, and in autumn, the "Autumn Afternoon Tea" was held with figs and pumpkins.
It is also recommended to enjoy a different afternoon tea every time the season changes.
2 Special tea, coffee, herb tea
The essential ingredient in afternoon tea is "black tea".
In Peninsula Tokyo, you can enjoy a carefully selected selection of the highest quality brand "Art of Tea".
A brilliant aromatic tea is perfect for exquisite sweets and tea food.
You can order your favorite tea from the herb tea selection and the classic selection.
We recommend the Peninsula Tokyo original tea, which is classified in the classic selection.
You can choose from 3 types of Brec fast tea and afternoon tea blend tea.
We have a coffee menu and espresso, but if you want to enjoy afternoon tea, I recommend Peninsula Tokyo's black tea menu which is carefully brewed.
If you don't like tea, I recommend the herb tea selection.
There are standard menus such as chamomile, peppermint and lemon verbena, as well as original menus focused on relaxation. The "relaxation therapy" which is a blend of lavender, rose petals and black marrow, is our recommended menu item.
https://www.peninsula.com/ja/tokyo/special-offers/dining/mikimoto-afternoon-tea
Afternoon tea menu June 2019
Theme: Mikimoto
The Peninsula is currently holding a "MIKIMOTO Afternoon Tea" named after June, which is also called the month of pearls.
Mikimoto is famous for its pearls.
Afternoon tea featuring sweets and savory items inspired by Mikimoto's brilliant "pearls" and the three-dimensional and gorgeous jewelry collection "Fortune Leaves Collection" with a clover motif.
Mikimoto Afternoon Tea Menu
*Sandwich Selection
Egg and cucumber roll sandwich queen crab caviar

Smoked salmon and cream cheese sandwich

Edamame Arancini

Fruit tomato caprese

Foie Gras Brioche Toast With Apple Compote

Open fig and spec ham sandwich gorgonzola
*sweet selection
"Perruloze" Lychee and rose mousse, matcha green tea financier

Apricot and Fromage Blanc Tartlet

Passion Fruit and Strawberry Baden-Bag Cake

White chocolate name lake and raspberry

Mango pudding coconut tapioca sauce

"Chocolat Provence" The Peninsula Chocolate Bavarois

Peach compote lavender flavored sea salt sable
*scone selection
Homemade Scones (2 kinds, plain and semi-dry apricot)

The Peninsula original clotted cream and jam
*The Peninsula Tokyo Classic Selection
The Peninsula Tokyo Blend

The Peninsula Tokyo Afternoon

The Peninsula Tokyo Breakfast

Assam

Darjeeling

Muscat

jasmine
*Art of Tea
Organic 1896

organic Darjeeling

organic Earl Grey

Organic English Breakfast

Organic Amore

Organic raspberry nectar

Organic mint green

Organic coconut cocoa puer

Organic French Lemon Ginger

organic hibiscusquler

Organic Egyptian chamomile

Point of Mikimoto Afternoon Tea
The matcha financier is topped with lychee and rose mousse inspired by "Pink Pearl" and the foie gras terrine is garnished with apple compote inspired by pearl.
There are also tomato and mozzarella cheese decorated with balsamic caviar that reminds you of "black pearl" and rice croquettes with green leaves and edamame cheese. They are finished with an afternoon tea that expresses the beauty of pearls and jewelry everywhere.
Review
*It was a collaboration of cherry blossoms and strawberries for the season, and it was a very beautiful arrangement.

A light sandwich after a sweet cake.

I was impressed that each one was calculated.
*I was impressed by the beautiful cherry blossoms from the moment I entered the lobby.

This is my favorite among the many hotels that have savory and warm scones that use good ingredients for cute and elaborate sweets.

Not only the appearance but also the taste is very delicious, but I feel frustrated that I can't finish it because of the large amount.
*I could enjoy cooking and talking in a relaxed atmosphere while listening to the piano performance.

The location is good, so I would like to stay again if I have a chance.
*The appearance was very cute, each one was very elaborate and delicious, and it was wonderful.

Strawberry and cherry blossoms were the theme this time, but I would like to visit again if the theme changes.
*As it was an afternoon tea with cherry blossoms, I enjoyed playing traditional Japanese musical instruments and cherry blossom objects in the lobby with a full sense of the season.

Afternoon tea associated with cherry blossoms was colorful and very delicious.
*The food was delicious not only in appearance but also in taste, and I could have free refills of tea within the time, so it was good that I could enjoy various kinds of tea.
Information | The Peninsula Tokyo "The Lobby"
[Afternoon tea hours]

13: 00 ~ 21: 00

【reservation】

https://www.tablecheck.com/ja/shops/the-peninsula-tokyo-the-lobby/reserve

thelobbyptk@peninsula.com

【Price】

5,400 yen per person

*8% consumption tax and 15% service charge will be added to the above fees.

【TEL】

+81-3-6270-2888

【Address】

The Peninsula Tokyo 1st floor, 1-8-1 Yurakucho, Chiyoda-ku, Tokyo

https://www.peninsula.com/ja/tokyo/hotel-fine-dining/the-lobby-afternoon-tea