In 2002, it suddenly became known as the restaurant where former Prime Minister Koizumi and former President Bush had dinner "Gonpachi, Nishiazabu".
The restaurant is also famous as the model of the set of the American movie 'KILL BILL (Kill Bill)' which was released in 2003.
The atrium of the restaurant consists of 2 sections, the 1st and 2nd floor is kushiyaki and the 3rd floor is sushi.
I introduce "Gonpachi, Nishiazabu" which is loved by many foreign celebrities.
Dynamic interior reminiscent of good old Japan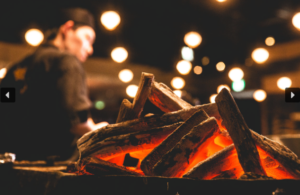 Popular restaurants in Japan and overseas
"Gonpachi Nishiazabu" is located a 10-minute walk from Tokyo Metro Roppongi, Nogizaka and Hiroo Stations just after the Nishi-Azabu crossing.
At Nishiazabu intersection, a white-walled building that looks like a storehouse suddenly appears.
In the center of Tokyo, the most eye-catching building is the "Gonpachi, Nishiazabu".
It is lit up at night, creating a more fantastic atmosphere.
This is a restaurant that can be used for dining, banquets, business entertaining, dating, and serving guests from overseas.
There are counter seats, table seats, and private rooms, and you can use them depending on the scene.
It became internationally famous by being the model for scenes from the historic "Izakaya meeting" by former U.S. President George W. Bush and former Prime Minister Junichiro Koizumi and the "Kill Bill" by movie director Quentin Tarantino "Gonpachi".
Today, as a Japanese restaurant serving soba, kushiyaki, tempura, etc., it is loved by customers not only in Japan but also around the world.
Appearance
The entrance of "KUSHI ・SOBA Gonpachi" on the 1st and 2nd floor is on the right side of the building, and the entrance of "SUSHI Gonpachi" on the 3rd floor is up to the stairs.
There is a menu at the entrance, so you can check the menu before entering the restaurant
You can order Edomae-zushi from the third floor of the sushi section, so if you are looking for sushi, you should go to the third floor.
When you enter from the entrance on the second floor, you can see the authentic soba making process with a millstone on the right side from the glass window through the lattice.
In the restaurant
When you step inside the restaurant, you will notice the high ceiling atrium.
There were 2 entrances, but actually, they are connected and the same space inside.
There is a round light bulb that looks like a lantern hanging from the high ceiling, and it is an interior that makes you feel like you have gone back in time to Japan in the good old days.
However, since most of the customers and staff are foreigners, it is a very strange space and it is also interesting.
There are long counter seats around the open kitchen where you grill with Binchotan.
This seat is very popular among people who want to enjoy eating while watching cooking.
You can see how brisk the craftsmen are working.
You can see the whole store from the table seats on the second floor.
In addition, there is a big drum on the upper third floor.
The countdown for the New Year's Eve is a spectacular performance of "Onidaiko-za".
Plenty of menus and Japanese taste drinks
Using carefully selected domestic buckwheat seed, soba which is carefully ground every morning with a stone mill is hand-made by a craftsman.
Kushiyaki that is carefully grilled with Binchotan, freshly fried hot tempura, etc., they serve their special dishes in a unique arrangement of Gonpachi.
That's why the menu of Gonpachi is Japanese but somehow foreign.
All the menus are written in both Japanese and English, and it's easy to understand because it has pictures.
The secret of its popularity is that even foreigners can easily order it.
Drinks
In addition to several kinds of beer and a variety of wine, there are also many drink menus with Japanese taste that can only be tasted here.
We have barley grass and homemade ginger ale in Moscow Mule, baked fruit in Sangria, Okabayashi Farm Yuzu citrus sour in Kochi, and Ramune sour with a nostalgic taste
Popular side dishes sashimi and tempura
Assorted sashimi and tempura are popular.
As for tempura, there are not only assorted prawns and vegetables, but also shrimp tempura which is irresistible for shrimp lovers (5 or 10), and crispy tempura which is slightly spicy and perfect as a snack to go with alcohol.
Other than that, they have a variety of dishes that everyone likes, such as fluffy and elegant flavored rolled omelets, nostalgic Showa croquettes, and assorted pickles.
The main dish cooked with charcoal is superb.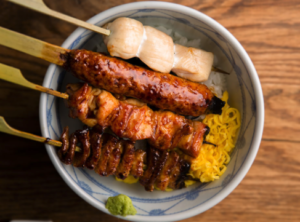 The main dish is kushiyaki grilled with charcoal.
For yakitori, the chicken thighs, wings and special chicken meatballs with soft sweet sauce are popular, and the gizzard's texture is irresistible.
They also have salted beef tongue with green onions, so you can enjoy it refreshingly with plenty of green onions and salt.
In addition, sirloin steak of Kuroge Wagyu using A4 rank Kuroge Wagyu is a must-have dish.
You can have it with Ponzu with grated daikon or Wasabi.
Some customers are looking for this juicy steak.
The mashed potatoes on the side are smooth, and it melts in your mouth.
Rice sushi, soba noodles
As for sushi, I recommend "Dragon Roll" using avocado and conger, which are popular overseas, as well as nigiri, and "Spicy tuna roll" using tuna and red pepper, which is a bit spicy.
Even those who don't like raw fish can eat this sushi.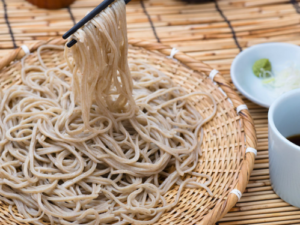 I also recommend handmade soba which is made by grinding from a millstone every morning.
Although it is chewy, it goes down your throat smoothly, and it has a different taste.
Depending on the season, you can have 100% soba made with 100% new buckwheat flour.
Other than that, we have a menu of rice bowls such as Oyakodon and Tenjyu.
Recommended Usage Birthday Special Offer
Gonpachi is a restaurant where you can meet nostalgic Japan that Japanese have forgotten.
Not to mention the taste, you can enjoy your meal while enjoying the atmosphere.
There is a cherry tree next to the terrace seats.
It is also recommended to have a meal on the terrace while viewing the cherry blossoms in full bloom during the cherry blossom viewing season.
If you have someone on their birthday, you can order fruits, cakes, and a dessert platter with a birthday message when you make a reservation.
The inside of the restaurant suddenly became completely dark, and an assortment of desserts topped with fireworks candles will be served.
The candles will be remembered for their lifetime as they are blown out along with clapping.
Review
*There are all the good things about Japanese bars.

The service and the food were perfect.

The surrounding seats are a little higher than the kitchen, and you can see the inside of the kitchen from the seats.

It is a wonderful shop with a live feel.

The taste was good, but after all, I liked the atmosphere of the restaurant.

As I entered through the eerie little door of a strange structure from the entrance, my children were delighted as if they had time slipped into the land of adventure.
*The restaurant is spacious and the lunch is set at a reasonable price.

It is like an ordinary izakaya at night.

I can go without putting on airs.

Locals go to Sushi on the 3rd floor at night, but this is a little expensive.
*It is a restaurant that became the model of the movie set of the movie Killville, so it is famous as a Killville restaurant for foreigners.

There is also a Japanese drum show.

In addition to the English menu, most of the staff can speak English.

The atmosphere of the restaurant is similar to that of a bathhouse in " Spirited Away", and foreign guests will surely be happy.
*I chose 2 kinds of lunch course.

My friend who wanted to eat scallops and salmon was very satisfied.

Every dish was wonderful with careful seasoning and arrangement.

The explanation of the food and the timing of the delivery were good.

As there were many foreign customers, there was an English menu and the staff spoke English, so it was smooth.
*I think foreigners will surely be pleased.

It may be good when you want to feel the Japanese atmosphere from a foreign perspective.
Restaurant Information
[OPEN HOURS]

11: 30 ~ 27: 30

LUNCH

11: 30 ~ 15: 00

LAST ORDER

Food 26: 45/Drink 27: 00

【tel】

+81-3-5771-0170

[Adress]

1F/2F1 -13 -11 Nishi-Azabu

Minato-ku Tokyo

https://gonpachi.jp/nishi-azabu/