Mega Station Tokyo Station always sends out delicious trends.
With the expansion of Gransta and the introduction of new shops of Ekinaka, the inside and outside of the ticket gate of Tokyo Station has been changing drastically.
There is a rush of new souvenirs!
This time, we will introduce 10 new and delicious sweets.
1 Cheese chocolate burger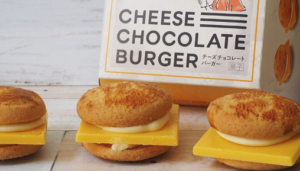 Tokyo Station is the only station in Japan!
A cheese chocolate burger is a new sensation of cheese sweets that looks just like a hamburger.
Salty cheddar cheese chocolate and airy whipped chocolate are sandwiched between soft buns.
Sweet and salty taste is addictive.
It also lasts for more than a month at room temperature.
Store handling: My Captain Cheese TOKYO

Price: 3 pieces 550 yen ~
2 Canned Tokyo Station biscuits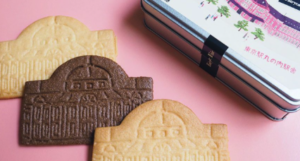 It is Tokyo station Marunouchi station building enclosed in biscuits and cans.
There are 2 kinds of biscuits in retro cans, butter, and cacao.
The cuteness of the appearance makes me nervous.
When you eat it, you can enjoy the taste of the ingredients with its crispy and light texture.
The shelf life of 60 days is perfect for souvenirs.
Store handling: Fairly Cake Fair Tokyo Station Gransta

Price: 840 yen
3 Tokyo Station Story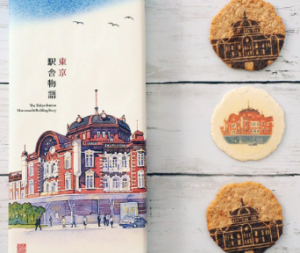 The story of Tokyo station building appeared from Katsurashindo in Nagoya which is famous for shrimp crackers.
Marunouchi station building of Tokyo station is drawn on top of shrimp Senbei.
The sweets that combine the traditional taste with the station building that is a national important cultural property are the best souvenirs for important people.
Store handling: Katsura Shindo Tokyo Station Gransta

Price: 9 bags 1080 yen ~
4. Trojan pressed chocolate, Hiyoko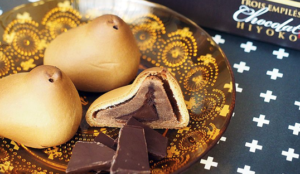 Hiyoko is a famous confectionery, but this time we will introduce you to a high-class adult version of Hiyoko, Trojan Press Chocolat Hiyoko.
The outside fabric has a slightly bitter taste.
Rich taste with chocolate paste and rich chocolate cream inside.
The package also has a premium feel, so I recommend it when you want to wear a curveball as a usual souvenir from Tokyo.
Stores: Gransta Tokyo Chuo Aisle, HANAGATAYA

Price: 3 pieces 648 yen, 6 pieces 1188 yen
5. Tokyo bean paste pancake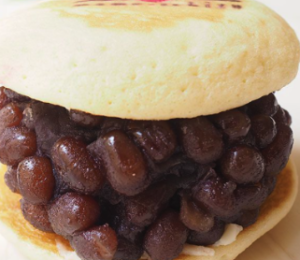 The Tokyo Ann Pancake is a sweet limited to Tokyo Station that is sandwiched with Anko(red bean) like a child's fist.
Top with thinly sliced butter. 
The smell of butter and saltiness are added.
It can be stored at room temperature. 
The expiration date is 2 days, so it's perfect for a souvenir.
Store handling: Tokyo bean jam bun (Ecute Tokyo)

Price: 480 yen
6 New York Perfect Cheese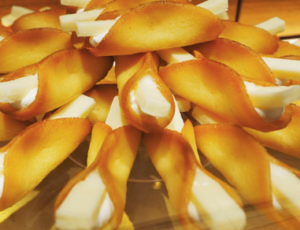 The New York Perfect Cheese is a popular souvenir that people line up even on weekdays.
The outside is a langue de chat cookie kneaded with gouda cheese.
Cheddar cheese kneaded chocolate and milk cream is wrapped inside.
It is best to go to the store early because it is sold out in the evening.
Stores: Kaminarisha Co., Ltd. (On the premises of Marunouchi South Exit)

Price: 5 pieces 775 yen ~
7 Suica Penguin Bolo, Suica Penguin Baum
Suica's Penguin Boro (648 yen) is a big hit at Mamegui Gransta, a small Tenugui (towel)shop.
This is sweet with penguins printed on a flaky cookie.
The pattern varies from sleeping, laughing, to footprints…
It's a souvenir not only for adults but also for children at Tokyo station.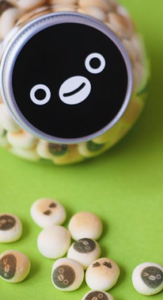 I will introduce another sweet limited to Mamegui Gransta store. 
The penguin Baum (540 yen) of Suica has a penguin drawn on the surface of fondant and can be pulled out from the mold.
Salted caramel flavored, accented with salt from Noto.
The rich taste and cute figure will heal you!
Both are sure to be sold out, so if you find them, you should get them.
Store handling: Gransta
8 Ningyo Yaki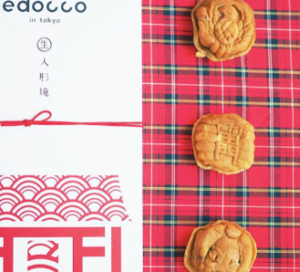 Hachitendo/edocco is a new brand of collaboration between Hachitendo Co., Ltd. and Tokiwado Raiokoshi Honpo.
Nama Ningyo Yaki looks simple, but it is surprisingly chewy when you eat it!
It will be useful as a souvenir of the Tokyo station.
The expiry date is about 2 weeks long.
Stores: Hachitendo/edocco (Ecute Keiyo Street)

Price: 1 box of 8 pieces 1080 yen
9. Audrey limited-edition cans at Tokyo Station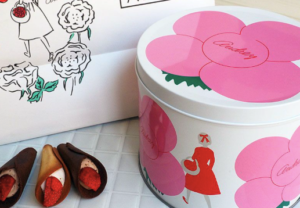 What is booming in Tokyo station now is Langue de Chat cookie with cute visual like the mini bouquet, Gracia of Audrey Tokyo station Gransta shop.
This shop is so popular that people line up right after opening!
Everyone is looking for limited cans that can only be bought at Tokyo Station.
All items are limited in quantity, so they are sold out every evening.
The aim is to have enough time and go first thing in the morning.
Store handling: Gransta

Price: 14 pieces 2160 yen
10 Maple Pie sandwiches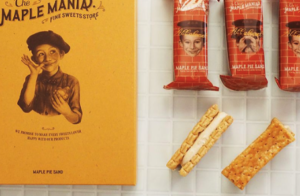 Maple pie sandwiches appeared in December 2018 from Maple Mania, a regular in the Tokyo Station souvenir ranking.
Sandwich maple sugar cream from one end to the other with butter-flavored crispy pie crust.
The package of Tokyo station's red brick station building is also noteworthy!
Store handling: Maple Mania Tokyo Station Gransta

Price: 8 pieces 1944 yen
Store information

*Gransta

[business hours]

8: 00 ~ 22: 00 (We are open until 21: 00 on the last day of consecutive holidays.)

[Address]

JR East Tokyo Station, 1-9-1 Marunouchi, Chiyoda-ku, Tokyo
*New York Perfect Cheese

[business hours]

8: 00 ~ 22: 00

[Address]

1-9-1 Marunouchi, Chiyoda-ku, Tokyo Gift Garden Tokyo Minami Aisle
*Ecute Tokyo

[business hours]

8: 00 ~ 22: 00

[Address]

1-9 Marunouchi, Chiyoda-ku, Tokyo
*Ecute Keiyo Street

[business hours]

8: 00 ~ 22: 00

[Address]

1-9-1 Marunouchi, Chiyoda-ku, Tokyo, Ecute Keiyo Street