There is a Dean and Deluca cafe on the first floor of Terminal 1 at Haneda Airport.
Dean and Deluca is a specialty food shop that has a collection of delicious food from all over the world. 
You can use it for various occasions such as morning, lunch and tea at the cafe which is attached to Dean and Deluca.
I will introduce Dean and Deluca cafes that you can use in various scenes such as adjusting the time before departure, resting after arrival, and looking for souvenirs.

What is Dean and Deluca?
Dean and Deluca (Dean & DeLuca) is a grocery store chain based in New York, the United States. 
In Japan, Welcome Inc. (Welcome Group) is developing the license.
DEAN & DELUCA is a food selection shop where you can find delicious food from all over the world.
Here's how the founders think about delicious food:

Delicious food only enriches one's mind.
The moment you step into the store, you are moved by the "beauty" that spreads in front of you.
A fresh surprise and discovery that makes you feel as if the food you are used to was born.
Colorful ingredients and food, the scent that floats, the energy of the market, and the blissful taste when you eat it. 
You can feel the beauty of food with your five senses. 
DEAN & DELUCA will provide you with rich and delightful deliciousness brought by the beauty of food.
Dean and Deluca sell various ingredients such as fresh foods and seafood, delicious wines and coffee from all over the world, as well as their own prepared foods and side dishes, ice cream, cakes, and bread.
Daily necessities produced by Dean and Deluca are also sold and used as gifts.

Dean and Deluca Cafe Haneda Airport
 The cafes in Dean and Deluca offer a menu of cafes with Dean and Deluca concepts using delicious ingredients from around the world.
You can enjoy quiche and a crispy panini at the cafe at Haneda Airport Terminal 1 station.
The recommended menu is the morning service. 
A set of toast, sandwich, and drink is from 700 yen to 500 yen.
It is right outside the monorail ticket gate, so it is recommended for when you need to adjust the time or for snacks before and after the flight.

It is convenient to have a rest before the flight and to meet up again.
There are a lot of recommended gifts such as souvenirs to visitors.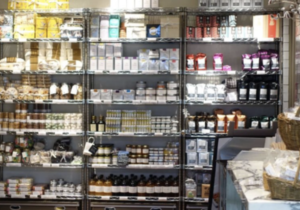 Dean and Deluca cafe menu
 [Morning]
There are 5 types of morning set.
*Butter toast set: 500 yen

*Egg toast set: 600 yen

*Avocado toast set: 700 yen

*Bacon & Egg Avocado Toast Set: 800 yen

*French toast set: 750 yen
 You can choose from coffee or tea for the set's drink.
If you order a la carte, you will get a 200 yen discount for the drink set.
 They have coffee and other drinks as well as food and sweets.
[Sweets]
*Pretzel Croissant 280 yen

*Winter Spice Scone 300 yen

*Juicy banana muffin 320 yen

*Classic cinnamon roll 340 yen

*Blackout Pound Cake 350 Yen

*Berry & Chocolate Fondant Muffin 350 Yen

*Carrot cake 400 yen

*Poppy Seed Chiffon Cake 400 yen

*New England Cranberry Cake 400 yen

*Peacanut apple pie 550 yen

*Granny Smith Scramble Apple Pie 580 yen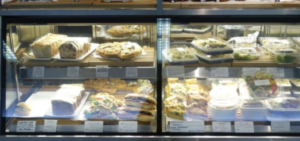 [sandwich ]
*Shrimp & Avocado Croissant Sandwich 620 yen
*Honey mustard panini with linseed pork and prunes 700 yen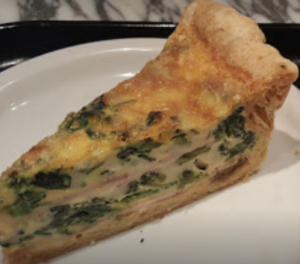 [quiche]
*Quiche Lorraine 480 Yen

 
[Pasta]
*Gorgonzola Penne 720 yen

*Kale and ricotta cheese orechiette 720 yen

 
[Side dishes]
*Chicken Pho 620 yen

*Sweden-Style Meatball & Butter Rice 720 Yen

*JAMBALAYA 740 YEN
It doesn't include tax.
Menu changes according to the season.
Review
*It is open from early morning, so it is convenient for morning and meeting.
*I think you can relax and enjoy breakfast and lunch.
*Although it was a cafe, it also had a shop space, and in addition to menus such as sweets, bakeries and drinks, kitchen goods and gift products were also available. 

Some of them are limited to the Haneda branch, which is named after the airport.
*Chai was really good because it had a strong cinnamon flavor and was strong.
*I recommend quiche. It was quite big and filling. And it is very delicious.

I really want people who like quiche to eat it.
*Croissants are the first taste I've ever had. 

The outside is crispy like a pretzel and has a moderate salty taste, but the inside is fluffy and has a taste full of butter. It was really delicious.
*We had a lot of goods such as sundries, sweets, and coffee, and it was fun to see them.

I was able to buy the thermo-tumbler I had been aiming for and the tableware I fell in love with this time, and the fatigue of the flight was blown away!
Info | Dean and Deluca Cafe Haneda Airport
[business hours]

7: 00 -21: 00

[Phone]

+81-3-5757-9605

[Address]

First Passenger Terminal Building B1, 3-3-2 Haneda Airport, Ota-ku, Tokyo