There is a Japanese restaurant in Haneda Airport Passenger Terminal 1 that you can use from early morning.
A stylish restaurant that catches your eye.
Hitoshinaya which pursues the flavor of the basic Dashi(soup)of Japanese cuisine.
This time, I will introduce the place where the restaurant is, how to make a unique space, and how to cook.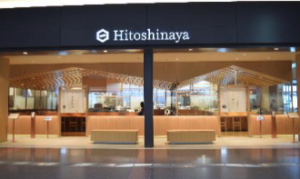 Stylish space
Hitoshinaya is located on the 2nd floor north wing of Haneda Airport Terminal 1, right in front of JAL's domestic check-in counter.
A stylish store with space where you can feel the warmth of wood.
Even if you walk around casually, you will be immediately attracted to this shop, and you will want to take a look.
Award-winning architect Ryo Matsui has designed the space.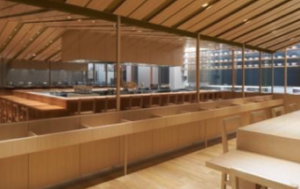 Three specialty stores under one eave
 A big feature of Hitoshinaya (Hitoshinaya) is that 3 specialty stores look like S under one eave.
 Asagohan(Breakfast):
A restaurant where you can eat Asagohan that brings out the soup all day long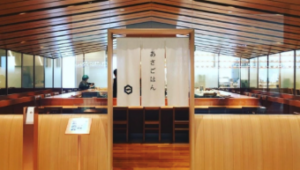 Donburi(Rice Bowl):
A restaurant where you can enjoy Dashian and ingredients in one bowl.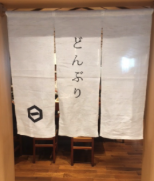 Ramen:
A restaurant that serves exquisite ramen with light soup made from duck broth and Japanese soup stock, and homemade Chinese noodles kneaded with tapioca.

Asagohan(Breakfast) is on the left facing Donburi(Rice bowl) and Ramen is on the right.
Inside, each store has its seating area separated by glass windows, but the shelves at the back where tableware and cooking utensils commonly used in all three stores are connected.
Common in 3 restaurants: Special dashi stock
The common point is that all 3 restaurants are specialized in Dashi (soup stock) which is the basis of Japanese cuisine.
When you are seated, you can have water and soup stock instead of tea.
I can tell that the soup stock was taken care with a moderate taste.
This soup stock is common to all 3 stores.
Asa Gohan( Breakfast), Donburi(Rice bowl), Ramen
I will introduce each of them.
Asagohan(Breakfast)
With the exquisite combination of seasonal ingredients, you can enjoy a meal with a soup and 5 side dishes rich in ingredients.
Menu
*White rice porridge 908 yen + tax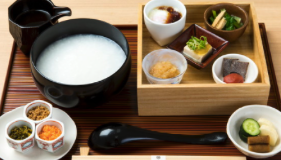 *Salmon platter ¥1315 + tax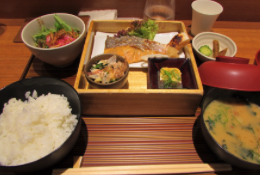 *Meat meal ¥1,389 + tax
*Fish platter 1667 yen + tax
*Beef platter ¥1852 + tax
Bowls
They  have prepared a dish with the flavor of soup stock and standard rice bowl.
Menu
*Special chicken & egg rice bowl with special soup stock 1,019 yen + tax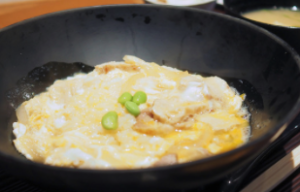 *Roast beef & deep-fried eggplant rice bowl ¥2130 + tax
*Young sardine and kakiage rice bowl 1,389 yen + tax
Ramen
Ramen noodles with Japanese soup stock, a dish with a rich flavor of soup stock
Menu
* Sea bream dashi kunsei ramen set (Tea- & -rice soup set) 1280 yen + tax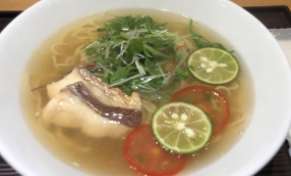 The menu changes every season.
All three have a beer, Japanese sake, Shochu, wine, and snacks.
This will be available from 15 o'clock.
Review
*The rice porridge set is gentle to your stomach and delicious.
*I will stop by the airport when I want to eat Japanese food.

The interior is stylish, and it is good that you can have soup instead of tea.
*I often use it because it is in front of the check-in counter.

First, the soup stock is provided.

This can be refilled.

There is a space to put your luggage behind the counter seat, so it's okay if you have luggage.

The food is normal.
*Breakfast at the airport is here! I've decided.
*I had ramen because I came here at lunchtime for the first time.

The clear broth was very delicious, and the noodles were chewy and elastic.
*Good breakfast. I often use it.
*Best to eat at the end of your trip.

In Haneda Airport, I am a fan who decided to eat here.

The taste, atmosphere, and thoughtfulness of the staff are good.
Hitoshinaya Haneda Airport
[business hours]

5: 30 -20: 00

Asagohan 5: 30 ~ 20: 00 L.O 30: 19

Rice bowl ・Ramen 10: 30 ~ 19: 30 L.O 19: 00

 

[Address]

3-3-2, 2F, Haneda Airport Ota Ward, Tokyo

 

[Tel]

+81-3-5757-8853

 

【HP】

http://www.tokyo-airport-bldg.co.jp/shops_and_restaurants/store/404/