Akihabara is the hub of Otaku and Cosplay culture in Japan.
We, Japanese, know so many foreign tourists visit Akihabara.
This post is an area guide when you visit Akihabara, a town of electronics and otaku culture.
We also introduce spots where you can buy cheap good appliances and specialty stores where you can buy otaku souvenirs.
Otaku Culture
Otaku culture is one of the Japanese pop cultures in the form of animation, manga (cartoon), and the lifestyles of younger people.
Otaku culture is widely spread throughout Japan via the combination of the Internet and manga.
The original meaning of "Otaku" is "your house" in English.
The name of Otaku may come from the behaviors of people who are enthusiastic, immersive in some areas of interest and withdraws home all day.
Cosplay
Cosplay is an activity in which people wear costumes and put on makeup to imitate characters from animation, games, and manga.
Now, cosplay is spreading from Japan to many contries, because Japanese animation and computer games are very popular with the younger generation.
1. Electrical street: 電気街
It is a symbol of Akihabara, a city of electronic devices that retains the old atmosphere.
"Electricity area" is an area that spreads to the east of JR Akihabara Station, and all types of electrical appliance dealers gather from large-scale mass retailers to small traditional parts shops.
If you want to buy cheap good appliances or items you can only buy here, please stop by!!
2. Yodobashi Camera Akihabara:ヨドバシカメラ秋葉原店
Yodobashi Camera is a large-scale consumer electronics retailer.
The shop in Akihabara can serve foreign customers to Japan.
"Yodobashi Camera Akihabara Store" is a consumer electronics store located in front of Akihabara Station. It handles Japanese household appliances that are popular with tourists visiting Japan, such as rice cookers and facial equipment.
In addition to home appliances, there are shops of various genres such as fashion brands and restaurant areas. It is a spot that you can enjoy without getting tired even for a long stay.
3. Don Quijote Akihabara:ドン・キホーテ
If you buy cheap Japanese souvenirs here
"Don Quijote Akihabara Store" is a discount store that also has chains throughout Japan.
The Akihabara store features a large number of regional products such as cosplay items and anime goods.
On the 8th floor, there is also the "AKB Theater" where AKB48, the idol group representing Japan, will perform.
The store supports tax-free counters and foreign currency payments.
As you can see, this is a facility that offers services for tourists visiting Japan as well.
If you want to feel comfortable with Akihabara's taste, it's a shop you would like to stop by.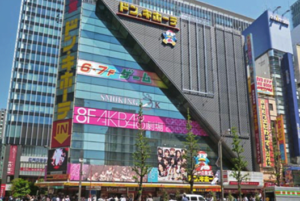 4. AKIBA Cultures ZONE: AKIBAカルチャーズZONE
This is a huge building where unique otaku shops gather.
"AKIBA Cultures ZONE" is a commercial building with many otaku-style shops.
There is a row of shops unique to Akihabara, such as "ACOS", which specializes in costume specialty stores,
"Lashinban (ラシンバン)" and "Animate (アニメイト)"  that deals with anime goods.
The "AKIBA Culture Theater" is also set up on the 1st floor, and you can watch the live performances of idols who are not yet famous in the world.
A few years later, they may have become the trend of Akihabara!
You would like to get deeply immersed in Japanese otaku culture.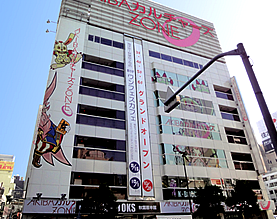 5. Akihabara UDX: 秋葉原UDX
A comprehensive facility where the latest anime information gathers
"Akihabara UDX" is a complex office that transmits Akihabara culture, and includes restaurants, shops, theaters, and more. In addition, you can check the latest Japanese animation information on the screen installed in front.
On the 4th floor, there is the Tokyo Anime Center where Japanese anime goods are exhibited. This is a hot spot for tourists visiting Japan.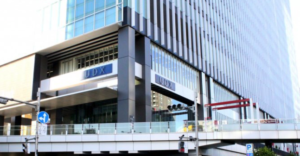 6. Maid cafe:メイドカフェ
Maid cade in Akihabara is a holy place where you can experience the Japanese "Moe(萌え)"
"Maid Cafe" is a cafe that can be said to symbolize Akihabara's otaku culture. When you enter the shop, a lovely maid will carefully greet you as a master (customer).
If you order food and drinks, you may be able to get the service that the maid has in mind.
Let's visit the holy place that created the culture of "Moe".
7. AKIHABARA Gamers Main: 秋葉原ゲーマーズ本店
It is the best select shop for otaku goods
"AKIHABARA Gamers Main Store" is a specialty store that deals with beautiful girl anime and voice actor goods. A lot of goods such as magazines, CDs, sundries are lined up in a row.
Some of the items were perfect for souvenirs, such as cookies and mugs.
Please come and see for yourself the Japanese otaku culture.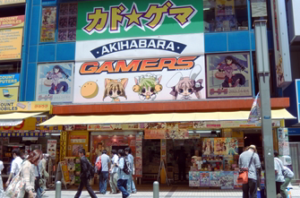 8. Gundam Cafe: ガンダムカフェ
The official cafe that can be immersed in the atmosphere of Gundam's world
Immediately after leaving the electric street (Denki-Gai) exit of JR Akihabara Station, you will see "Gundam Cafe".
This is a popular cafe that reproduces the sense of the world of Gundam, a popular anime in Japan.
Various tricks including a Gundam image are in the shop.
Please visit and try it yourself.
9. 2k540 AKI-OKA ARTISAN
This is best if you want to buy Japanese souvenirs.
"2k 540 AKI-OKA ARTISAN" is a commercial facility located under the JR elevated railway. Stores with the theme of manufacturing gather, and you can purchase traditional Japanese crafts and sundries from Japan.
Akihabara is a tourist destination where you can feel the two sides of an electric city and otaku culture. Please visit by all means!!