Tofu Sorano is a tofu dishes restaurant.
Even though it is about a 5-minute walk from the south exit of Shibuya Station, you can feel the warmth of the trees and enjoy the atmosphere of a hideaway where time passes slowly.
The "Handmade tofu" waiting at the table is delicious.
It will be a valuable experience to see how tofu is made in front of you.
As in "Yuba tofu skin with sea urchin topping" or "Deep-fried shrimp dumplings wrapped in Yuba tofu skin"
The creative cuisine that combines tofu and seafood is popular.
Special tofu and creative dishes with tofu as the theme
At "Sorano", they're thinking of making tofu without any additives or coagulants.
They will continue to convey the deliciousness of our predecessors' wisdom and knowledge to everyone.
They create completely new dishes using traditional ingredients called tofu.
They will entertain customers with the fun of the space, relaxing lighting and service, and creative dishes with the theme of tofu.
Specialty; Handmade Sorano Tofu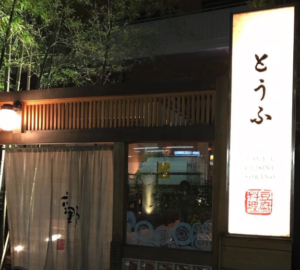 They use the highest peak of organic whole soybeans, Toyomasari from Tokachi, Hokkaido and the finest soy milk extracted from carefully selected soybeans with a rich soy milk content of 14 degrees for making tofu.
It is finished so that you can enjoy the original taste of tofu with the condensed flavor of soybeans.
To the customer, they take the tofu to the table before it hardens and heats it in front of you to finish the tofu.
It's a specialty that you can enjoy with your eyes.
You can enjoy the soft and smooth texture and plain tofu.
Seasonal Tofu Dishes
In addition to traditional Japanese cuisine, tofu dishes using a wide range of techniques can be enjoyed with creative seasonal dishes.
We recommend dishes that bring out the colors of each season.
*Yuba tofu skin with sea urchin sauce
*Deep-fried shrimp dumplings wrapped in Yuba tofu skin
and so on.
It depends on the season.
Famous supporting role in local chicken dishes and tofu dishes directly delivered from the farm
We also recommend the simple local chicken dish using the red bamboo Shamo.
The fresh local chicken that is directly ordered from the producer is the famous supporting part of the tofu dish with a smooth and delicate flavor.
Tofu Sweets
A sweet made of tofu with a gentle taste that makes use of the natural sweetness of soybeans.
This is a popular dish that you will definitely want to try at the end of a tofu dish.
・Soy Milk Cheese Cake
・Soy milk tiramisu
The head chef from French will show his skill. It is also popular among foreign tourists.
Chef Suzuki is 58 years old.
He was originally a chef from French cuisine.
15 years ago, He has been a chef since the opening of Sorano, and he looked back on those days by saying, "at first he licked the tofu".
However, He will gradually establish Suzuki-style tofu dishes with my own cooking theory.
The bold and delicate dish that was created by taking advantage of the characteristic of being from French gradually attracted many women and foreign fans.
It has the head chef's idea of "Addressing the ingredients and pursuing the deliciousness. He hope the person who ate it will feel small happiness!".
Review
*Freshly made tofu is of course delicious. The tofu arrangement is the best.
*In addition to tofu, there are many kinds of seasonal tempura and seasonal menus, so you won't get tired of it no matter how many times you visit.
*There is a calm atmosphere in the sky that you can't believe it is Shibuya.
There is a river running through the restaurant and most of the seats are semi-private rooms. You can enjoy meals and chat calmly.
*Sorano tofu is tofu without additives or coagulants.

The soy milk made from Toyomasari from Tokachi is made with natural bittern and made into tofu at your table.

First, leave it as it is. Then add salt. Pour dashi over it. You can enjoy the change of taste.
*Both the exterior and interior are elegantly arranged with the warmth of wood.

The appearance is exactly the structure that is suitable for "A restaurant that mainly serves tofu dishes.".
*From the outside, it is calm as if it is not Shibuya.

It has the atmosphere of a Japanese restaurant.
Tofu Sorano
【business hours】

Tuesday to Saturday 17: 00 ~ 23: 30 (L.O. 22: 45)

Sun/Holiday 17: 00 ~ 23: 00 (L.O. 22: 15)

Closed: Mondays (Next Tuesday in case of a national holiday), New Year holidays

【Tel 】

03-5728-5191

【address】

Cherry Garden 1F, 4 -17 Sakuragaoka-Cho, Shibuya-ku, Tokyo