Haneda Airport General Merchandise
 What is Haneda Airport?
 Haneda Airport in Tokyo boasts the largest number of passengers in Japan.
It is so popular as a gateway to Japan that it always stays at the top of the ranking of airports in the world.
There are many restaurants and souvenir shops in Haneda Airport.
 3rd floor of Passenger Terminal 2
'Tokyo's Tokyo '
 With the keyword "Travel from Tokyo", this is a store where sundries and books produced by a creator who is currently in the spotlight for travelers are lined up.
There are many "Made in Japan" products created by makers all over Japan, and they are very popular among foreign tourists.
 Tokyo's Tokyo

【Business hours】9: 00 -19: 30

【tel】+81-3-6428-8732

【adress】 3-4-2 Haneda Airport, Ota-ku, Tokyo 

Haneda Airport Terminal 2 Building 3F

https://www.tokyo-airport-bldg.co.jp/shops_and_restaurants/store/299/
 This time, we will introduce 10 kinds of Japanese souvenirs that foreign friends really enjoy from Tokyo's Tokyo, a popular souvenir shop in Haneda Airport.
1. "Nanako Plus Japanese Confectionery Motif Zakka"|ナナコプラス 和の菓子モチーフ雑貨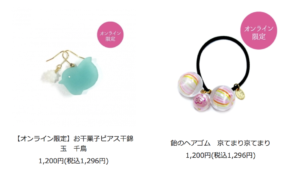 1 piece is from 500 yen.
Real candy makes an accessory!
This product is a real candy coated with resin.
Accessories that reproduce delicate and cute Japanese sweets as they are, such as those found in traditional Japanese confectionery shops, can be said to be a new tool to convey Japanese traditions and craftsmanship to the world.
 The color and fine pattern of the candy inside is coated as it is with a special technique.
There are a variety of hair accessories and key chains, and the reasonable price range is also attractive.
Review
・    It's really cute. After all, real candy is wonderful. It doesn't have to be bulky to buy a lot and distribute to friends.
・The package is transparent, so you can see the inside clearly and the first impression is very good. 
・    The delicate patterns and colors used in amezaiku are different from each other and there are many varieties, and the techniques of traditional Japanese crafts are well passed down.
  2.  Kochae Tsutsumi | コチャエ つつみ絵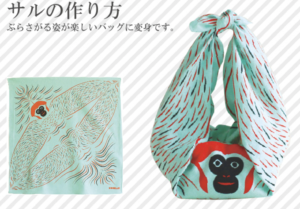 1 for 800yen〜
They are Froshikis. 
Furoshiki is a cloth in the shape of a square to wrap things and carry or store them.
There are many ways to use it.
Furoshiki with a cute pop Japanese pattern and a variety of fun patterns.
Tokyo with panda and Kaminarimon printed, and Kyoto with Maiko and Gojunoto printed.
There are two types of local patterns and they are very popular.
Review
・The designs that represent Japanese culture like 'Kabuki' and 'Maiko' are very popular.

Even if you don't use it as a furoshiki, you can decorate the wall and enjoy it stylishly.

The fact that it's not bulky no matter how many you buy makes it a great souvenir.
・    Affordable price is really important. I think that the people who receive it prefer the products that are easy to feel Japan and not big. 
3.  "Obento Trump"  Lunch box pattern  Trump ( 1piece is 1400 yen.)  | おべんとうトランプ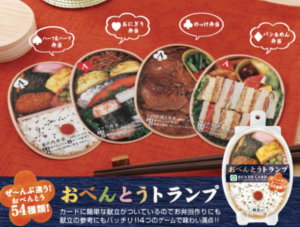 How unique!
This is a card which you can enjoy 54 kinds of Obento patterns.
Obento means lunch box.
There are 54 kinds of caraben, yakiniku bento, salmon bento, and sandwich bento. They are all different designs of bento.
It is written in Japanese, but there are menus and unique ways to play on the back. 
Even the Japanese would want it.
Review
・    Japanese food is delicious and very popular, and there are 54 kinds on it, so you can learn about various bento. Anyone from children to adults can play cards, so they will definitely be happy.
・    Interesting. It is wonderful to know so many Japanese foods.
・    It has an impact and everyone can enjoy it. The original rules on the back side are only in Japanese, so you can't read them, but playing cards are common to all countries, so it is friendly.
4 Kisso Accessories (1680 yen ~)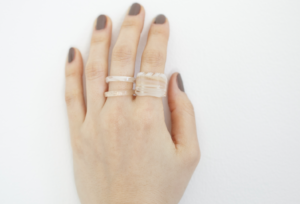 THE SAME MATERIAL AS THAT Sabae GLASSES FRAME!
This accessory uses the same material as the eyeglass frame, a specialty of Sabae City, Fukui Prefecture.
The vivid colors and fashionable patterns that draw attention even from afar are created by kneading acetate, the same material used for eyeglass frames, into the product like candy work.
 It is a warm and carefully made gem that you can feel because it is handmade. 
Review
・Very stylish. 

If you show the story of Sabae's specialty, glasses, you can tell another Japanese culture.
・I think female friends and family will be happy. 

There are many designs and types, so I really like it.
5, SUMO Bath Salt (bath additive) 1 for 180yen |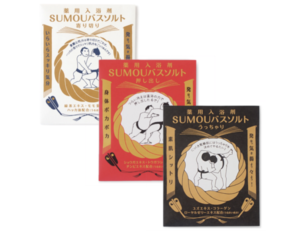 Sumo (SUMO) is a traditional Japanese Shinto ritual or festival in which sumo wrestlers compete in a union on the dohyo, and it is also a martial art, a martial art (From the original meaning of "Yumitori ceremony"), and an entertainment.
 Can you learn how to play sumo?
Use sumo techniques to blow off irritation, cold, and dryness! 
Medical bath essence using domestic salt based on the concept.
 It is named after the technique of sumo, and there are 3 types, "separated bath", "extruded bath" and "light bath".
 In addition to selling 1 sachet separately, there is also a set of 2 sachets of 3 kinds "Yokozuna Set", which can be used for a little catch-up. 
Review
・    This is the best price for bulk buying. 

In France, they don't use bath salts so much, but on the other hand, I think they will like it as a souvenir from Japan. 

And because of the Japanese national sport that everyone knows, sumo is a great souvenir that can be given to anyone.
・    Everyone knows about sumo, but I don't know the name of the technique, so I'm sure he'll be happy to explain.

In the Philippines, there are many people who love Japan so everyone wants to know more about Japan! 

They will definitely be happy if any genre is related to Japanese culture.
6 Norimaki Towel  | のり巻きタオル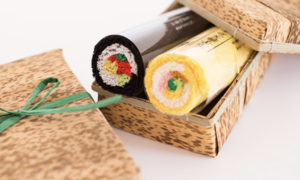 1 piece is from 600 yen.
Norimaki means a food wrapped with nori or a dish itself wrapped with nori. 
The term "Nori seaweed roll" often refers to sushi makimono.
No matter where you look at it, the nori-maki makes a big impact!
Spreading it makes it a simple striped pattern, so this seaweed towel will fit in any place.
The 3-piece set of tuna roll, cucumber roll, and natto roll in a bamboo skin box with rose is also a souvenir unique to Japan.
Review
・    It's very Japanese. 

When you open it, it disappears, but everyone's reaction when you give it to them seems very interesting!
・The type of seaweed roll and the green balun in the box are elaborately detailed and it feels like Japan.

I think my friend who loves jokes will be very happy.
7. Tente Mt. Fuji tissue case  | 富士山ティッシュケース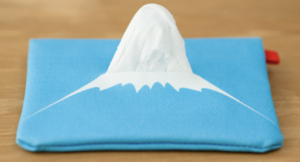 1 piece is 1600yen
Everyone loves Mt. Fuji, the symbol of Japan!
A tissue case with a pattern of Mt. Fuji, which was designed on the occasion that Mt. Fuji was registered as a UNESCO World Cultural Heritage site.
 This item comes in two colors, red Fuji and fresh blue. When you take out tissues, it looks like pure white snow on the top of Mt. Fuji.
Review
・    It is a classic, but Mt. Fuji is a motif everybody likes. 

The design that you can finish up to the top of the mountain when you take out tissues is also stylish.
・Mt. Fuji attracts me. It is a symbol of Japan, so if you give it to someone, they will definitely know it is a souvenir from Japan.
8. Tenugui "DON'T WORRY ABOUT IT!"  | かまわぬ てぬぐい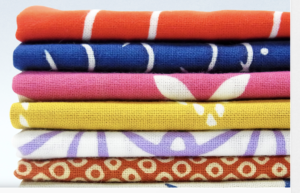 1 for 800 yen ~
Tenugui towel (Tenugui) is a plain-woven cotton cloth used for wiping sweat, water after washing face and hands, and washing body during bathing. 
In addition, it is worn on the head for the purpose of protection from cold and heat or dust, or as an accessory at rites and festivals.
It is fun to have a variety of patterns from Edo classic to modern.
Japanese tenugui was a daily necessity in the Edo and Meiji periods.
It is being reconsidered in modern life, and it is popular as a wrapping and a gift both in Japan and abroad because it is thin, not bulky, and has various colors and designs.
The price is reasonable, so you can buy several of them in different patterns.
Review
・    There are various patterns. 

There were many pictures that showed Japan such as sushi, kanji, and ninja.

Like Furoshiki, I think this Tenugui is fashionable if you put it in your forehead and make it a wall hanging.

I think there are foreigners who use it that way.

The design is so attractive that you can decorate it as an art, and it is a waste to use it like a dishcloth.
・Very attractive.

If there are so many kinds, you can buy them in bulk and have them choose.

It is appreciated to tell the meaning and origin of each of them, but sushi toppings and Kanji of fish have an impact just by looking at them.

 
9. OJICO Haneda Limited Long T-Shirt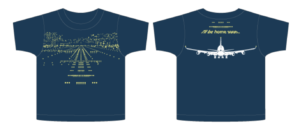 1 for 3500yen 〜
You can enjoy parent and child coordination.
A T-shirt limited to Haneda has arrived from a popular old man with a unique design!
It is full of playfulness as the patterns are connected when worn by two people. 
Plenty of sizes are available for kids and adults.
Review
・    The limited items available only here are attractive.
・The price is a little high, but it is a valuable purchase considering it is made in Japan and of high quality.
・It's more for relatives and family than friends. The design is simple and easy to wear.
10.Folded Crane Pieces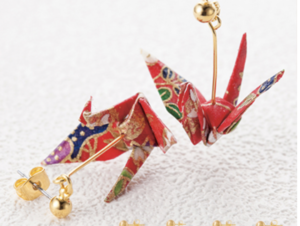 One ear 2500 yen
Real paper cranes are coated as they are!
Earrings with resin processed small handmade paper cranes.
Folded cranes are used by Japanese to pray for recovery from illness, safety, and peace. 
A soft and delicate Japanese handmade accessory with colorful small cranes that protects the wearer and cuddly. 
Review
・    It is very delicate and beautiful. 

Just put it on one ear for a trendy look. 

Maybe because it is handmade, the price is a little high, but it is very Japanese and nice.
・Beautiful!

I want to buy and distribute all colors. 

Everyone knows origami and paper cranes, and handmade paper cranes pierced earrings are very nice.