Do you know the Multifunctional hot plate?
We introduce the multifunctional hot plate which is now very popular in Japan.
The name of the product is Bruno.
By changing the plate, we can make various dishes such as Takoyaki, pancake, etc.
It looks fashionable and compact.
You can use it for not only everyday dishes but also for the party dish.
BRUNO compact hot plate BOE021-RD 
Product Information
From amazon

Japan

Size: about H375 × W65 × D70 [mm] (body + blender stick)

Weight: about 675g (body + blender stick)

Material: Body: ABS, blender: stainless steel, whipper: stainless steel, Chopper bottle: AS, blender cup: AS

Country of origin: Japan
Product description
From amazon:
orange IOE004-OR Description handy blender that can easily full-scale cooking of the product.
1. [multi-function: crush, mix, whip, chop it with a single
2. [time reduction:! Optional parts and convinced of the power of solid
3. [Easy: to use as it is in the pot or bowl, clean up easy!
multi handy blender [multi-function can is easy authentic cooking from Amazon:!
crush, mix, whip, chop, but in one potage and smoothies from the mise en place of cooking, until the baby food manufacturing.
Only replace the attachment, it is easy to cook with one hand.
Whipper: to whisk the cream and egg white chopper: minced vegetables chopped and meat [shorter working hours: and to convince of power there and useful accessories and attachments set all enhancement of option parts!.

Because it is powerful, what cooking also doing more quickly, it finished evenly. Blender cup: cap in juice or dressing making: Bottle-based cleaning brush to save cap: Your convenient cleaning brush to clean [Easy: pot and is used as it is in the bowl, pot or container in easy cooking clean up! since the use put directly to, smoothly usual dishes is more. Metal head portion of the sanitary-to-use and can be scalding. If you want to use in the pot is, please use Remove from heat Size: about H375 × W65 × D70 [mm] (body + blender stick) Weight: about 675g (body + blender stick) Material: Body: ABS, blender: stainless steel, whipper: stainless steel, Chopper bottle: AS, blender cup: AS Country of origin: China Power: AC100V
Hmm…, difficult to read. I summarize these points.
The basic set of Bruno compact hot plate consists of
Hot plate body

Flat plate
Takoyaki plate
Lid
Outlet
Wooden spatula
"Flat-plate" and "Takoyaki plate"
There are two plates in the basic set, "Flat plate" and "Takoyaki plate".
It is nice to have not only a flat plate but also a Takoyaki plate.
The flat plate is used for pancake, okonomiyaki, grilled meat, paella, etc.
Takoyaki Plate is used for Takoyaki Party
Recommended points
Fashionable
The best feature of Bruno Hot Plate is its appearance!
The table looks gorgeous just because it looks stylish.
Some people put it on a shelf near the table like interior.
Compact
The product is compact that you can store it easily.
If you have a large, heavy plate, it could be bothersome to release and would be useless.
But Bruno is small and light, so it doesn't bother getting in and out.
It weighs 2.4 kg, so it's almost a 2-liter plastic bottle.
You can easily get it in and out.
Three types of optional plates that spread the range of the food
1. Ceramic-coated Pot
When you want to cook a pot meal, we recommend buying "Ceramic-coated pot" as an optional plate.
"Simmered dishes" allows you to greatly expand the variety of hot plate cooking!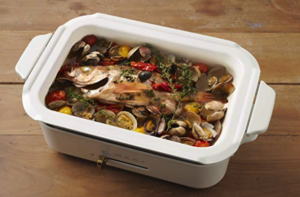 Because this type of plate is deeper than the original plate, pot meal does not overflow even if you use a lot of ingredients.
2. Grill Plate
Grill plate for baking grilled meat, fish, and vegetables.

The feature of this grill plate is the irregularities on the surface of the plate, which allows you to make delicious baked foods.
The irregularities on the plate have a role of dropping excess oil down; therefore, it's also nice to be able to eat healthy foods.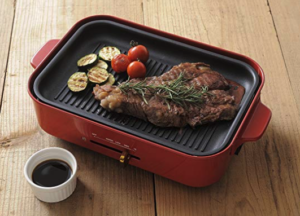 3. Multiplate
You can make six pieces of the fried eggs with just the same size.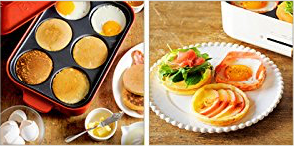 If you want to buy all optional plates with the main body of the machine, here it is.
size:
● (Main body) Width 37.5 × depth 23.5 × height 13.5 cm /
weight:
● When flat plate is used: about 2.1 kg /
● When using Takoyaki Plate: about 2.2 kg
Material:
● (Body) Steel / Phenolic Resin /
● (Various plates) Aluminum die casting /
● (Ceramic coated pan) Aluminum die cast (ceramic coated)
※ ◆ Power supply: AC 100 V (50/60 Hz) /
※ ● Power consumption: 1200 W /
● Power supply cord length: about 180 cm /
● Temperature controllable (4 stages / 65 ℃ to 250 ℃)
● Safety device: (thermostat / thermal fuse)
◆ accessories:
● Lid × 1 / ● Flat plate × 1 / ● Takoyaki plate × 1 / ● Multiplate × 1 / ● Grill plate × 1 / ● Ceramic coated pan / ● Wooden spatula × 1 / ● Japanese Instruction Manual
※ ◆ please note: ※ ● Plate becomes hot.
Please be careful enough for burns. /
※ ● Please use the body more than 20 cm away from walls and corners etc. /
● When using for the first time, wash the plate with a soft sponge containing a neutral detergent for kitchen, rinse well with water, please use after thoroughly drying.
Product features
★ It is a compact hot plate of BRUNO exactly good sense of size.
● With compactness of A4 size, it ranges widely from every day's table to a special party scene.
● The width of cooking widens widely with two kinds of plates, flat plate and Takoyaki plate.
● With this hot plate, you can make various recipes with paella, dumplings, pancakes, okonomiyaki, Takoyaki and ahijo, petitcakes.
● I can put it on the table and cook it in front of me, so it's perfect for the party to be excited with everyone! You can eat and have fun eating hotly.
● In addition to the thermostat, safety design such as thermal fuse and magnet plug is also provided.
● Although it is a cute design with a retro image of an enamel saucepan, the power is enough. It is a hot plate without saying.
● Even if you put it on the desk, do not take too much space and you can easily remove the plate. It is also recommended as a gift because it is in a cute private box.
※ ◆ Detailed description: Newsbridge
Review from the customers
・ It became very easy to cook because after cutting the ingredients, you can cook hot plate dishes on the table, while making a chat with your family, and you can also help the family with cooking.
・We use Bruno Hot Plate twice a week in our home.
It's also easy to do that because of this handy compact!
・Easy to clean and easy to use

Recommend everyone if you looking for table hot plate
・Perhaps overpriced for what you get and it does not heat evenly, but it's adorable and I love cooking on it. Note the lid, although cute is non-functional, as in don't use it with the heat turned on.
・This Bruno compact hot plate is pretty good and very useful but sometimes when I am using it the fire is slow