A cafe where you can enjoy dating and alone time.
You can enjoy various ways such as having a relaxing and delicious lunch on the sofa or taking a break with sweets or coffee.
Popular cafes appear in the battleground of Shibuya, Harajuku, Omotesando, Daikanyama, Ebisu and even in front of Kuramae in downtown.
In particular, there are many cafes in Tokyo, but we will focus on the popular areas and introduce carefully selected cafes recommended by café maniacs, focusing on the shops that are popular on Instagram and famous shops with long lines.
Some restaurants are easy to drop by alone, while others are perfect for dates.
If you know in advance, you will be able to cope with the meeting time and the gap time.
This time, I will introduce 5 recommended cafes in Shibuya area which is crowded with young people.
Coffee House Nishiya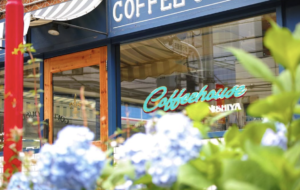 It is a 10-minute walk from Shibuya Station.
It's a coffee shop near Aoyama Gakuin University.
It's a chic and calm cafe for adults. Not only the coffee is delicious, but also the food menu provided is said to be perfect for a light lunch.
Custard pudding is even more popular.
The adults' slightly bitter caramel goes well with the firm pudding.
If you mix it with the coffee carefully brewed by the barista, you will feel as if you are a stylish person from overseas.
There are counter seats, table seats, and even terrace seats, so please use them by yourself with your friends and lovers. 
Review
*First of all, the appearance is wonderful. It was like a European cafe.
*There were a lot of cafe menus, so I was at a loss which one to choose.

I've never seen the menu before, and everything looked delicious.

Everything looked beautiful.
*It is not an exaggeration to say that almost all customers order pudding.
*It was a perfect cafe to get out of the hustle and bustle of Shibuya and relax.
*Pudding, a popular dish, started lining up after 3 o'clock and was just sold out. 

If you are looking for pudding, I recommend you to come early.
Information
*Address

Shoyo Building 1st Floor, 1 -1 -4 Higashi, Shibuya-ku, Tokyo

*TEL

+81-3-3409-1909

*business hours

[Wed – Fri]

10: 00 ~ 19: 30 (L.O. 19: 00)

*Closed

Tuesday
BUY ME STAND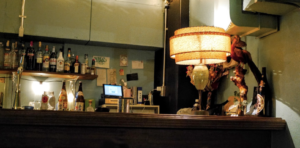 It is a 10-minute walk from Shibuya Station.
The sandwich at Namikibashi is the main cafe.
The stylish and stylish interior which is used even for taking pictures of magazines is the American diner itself.
The bright green unified wall will make you forget that you are in Japan.
The interior design is so high because it was originally operated by an apparel shop company.
The sandwich that you can eat is somehow wild and stylish.
Apple Cheeks Blue Monday is also unique.
The combination of pork belly, apple and cheese are sandwiched between crispy bread. It's an unexpected ingredient, but it goes very well with it.
You will get addicted to it with a little junky taste.
 Review
*It was an exciting breakfast from the morning.
*I recommend the delicious breakfast in Shibuya.
*This is the apparel brand "SON OF THE CHEESE ". It has a stylish atmosphere.
Information
 Address

1 -31 -19, Mansion Namikibashi 202, Higashi, Shibuya-ku, Tokyo

*TEL

+81-3-6450-6969

*business hours

8: 00 ~ 21: 00

*Closed

None
 ON THE CORNER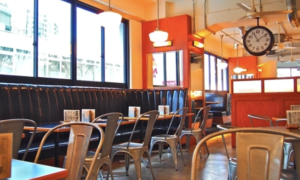 It is a 2-minute walk from Shibuya Station. 
The closeness to the station is the attraction of this cafe.
It has a casual atmosphere like an American diner, and it is a stylish restaurant perfect for a date.
There is a stand in the front where you can enjoy authentic coffee brewed by a barista.
There is also a counter with an outlet that is perfect for working.
You can enjoy a meal leisurely with your friends and lover at the box seats.
You can enjoy a voluminous menu such as pasta, hamburger, and pizza at a reasonable price during lunch time.
The atmosphere is American, and even the food is American.
It is very satisfying for men, so why don't you go there with your lover?
Review
*You can enjoy it alone, with friends, on dates, with women, or in groups.
*The coffee had a relaxing taste and was delicious as usual, and I was able to use it effectively while I was waiting, which made my work easier.
*The hamburger is delicious. 

The inside of the restaurant is American style, so it is not like a cute cafe.

There were many men who went there together, and in fact, there were many young people.
 Information
[Address]

1 -17, Takenomura Building 1F, Shibuya, Shibuya-ku, Tokyo

*TEL

+81-3-6427-7273

*business hours

Weekdays 11: 30 ~ 25: 00 (L.O 24: 00)

Fri/Sat/Holiday Day 11: 30 ~ 29: 00 (L.O 28: 00)

Sunday 11: 30 -25: 00 (L.O 24: 00)

Lunch 11: 30 ~ 15: 00

*Closed

irregular holiday
 Åre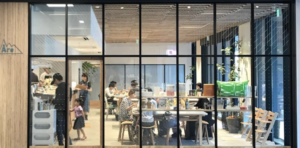 It is a 5-minute walk from Shibuya Station. 
It is a cafe in Shibuya Cast which was born as a new symbol of Shibuya. 
Space is easy to use for anyone from fashionable apparel people to families in the neighborhood.
In the bright and warm wooden restaurant, you can enjoy a menu from breakfast to dinner. For breakfast, try simple Anbuttered Toast or Granola. 
I recommend the pasta set for lunch and the special coffee and pudding a la mode for teatime. 
Especially the classic pudding a la mode is a nostalgic and popular dish.
In addition to the box-type sofa seats, it is also convenient for working because it is equipped with Wi-Fi.
Review
*I highly recommend it because you can spend a relaxing time in the best location!
*The interior is certainly simple and beautiful with the concept of Northern Europe and plenty of coniferous wood.

There are many people who use it like a coworking space, which is a way to suggest something unique to Shibuya.
*Speaking of Are, cute pudding A la mode is also popular, but I recommend a single pudding because it is delicious. 

I always order it with its firm firmness and the moderate sweetness of the pudding, which makes me feel the taste of egg.
*This is a precious cafe where the staff can stay cheerfully and comfortably from morning to night.
Information 
*Address

1 -21 -23 Shibuya CAST 1F, Shibuya, Shibuya-ku, Tokyo

*TEL

+81-3-6434-1129

*business hours

8: 00 ~ 22: 00 (L.O. Food 21: 00 Drink 30: 21)

*Closed

None
 Tokyo Kenkyo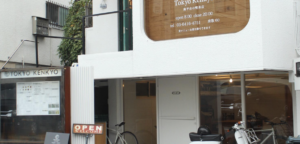 From Shibuya Station, you can walk in the direction of Daikanyama for about 15 minutes. This cafe is located in a quiet residential area away from the station and known only to those who know it.
The interior is very well designed with the walls covered with green, and I feel like it's a little fashionable just by being there.
There are counter seats on the first floor and a big table with shared seats on the second floor.
I recommend you to enjoy meals calmly with a small number of people rather than visiting with many people.
I would love to have the very thick pork fillet cutlet sandwich.
The pork fillet cutlet that is cut thickly is juicy as the juices overflow the moment you chew it.
The sandwiched bread is fragrant, and the more you chew, the sweeter it becomes.
The sauce brings out the flavor of the cutlet, and the taste is superb beyond the impact of the appearance.
Other than sandwiches, Neapolitan and Omelet Rice are also recommended. 
Review
*I was surprised by the size of the sandwich!! 

The thickness of the cheese fillet cutlet is amazing. 

It is so delicious that I have never eaten it. 

The french fries garnish is also delicious.
*It was a sandwich that I could enjoy the sense of fulfillment that kept me from getting bored until the end.

 It looks voluminous, but it doesn't look like you're looking for a weird instar look.

I like the traditional white bread as the main ingredient.
*The atmosphere of the restaurant is stylish and refreshing. 

A sandwich that goes well with soda.

 I am also interested in French toast and pancakes.
 Information
*Address

7 -9 Minamiheidai-Cho, Shibuya-ku, Tokyo

*TEL

+81-3-6416-4751

*business hours

8: 00 ~ 20: 00 (L.O 19: 30)

*Closed

Monday