Sapporo Ichiban is a popular instant ramen run by Sanyo Foods, an instant noodle maker.
The first soy sauce flavor was launched in 1966 and has a history of more than 50 years.
After that, miso flavor and salt ramen were sold.
In addition to the standard flavor, various flavors such as tonkotsu and sesame are sold in bags.
There are a bowl type and a packaged type.
The packaged type is so popular that it is always in the top-selling category.
In Japan, it can be said to be standard instant ramen that everyone has eaten at least once.
I will introduce Sapporo Ichiban Ramen which you can get on Amazon in the US.
Soy sauce flavor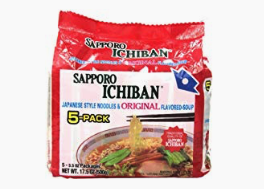 *Sapporo Ichiban Noodle Instant Bag, Original, 3.5 Ounce (Pack of 24) by SAPPORO

*Sapporo Ichiban Original Ramen Noodles, 17.5 Ounce by Sapporo Ichiban

*Sapporo Ichiban Soup Cup, Original Noodle, 2.25 – Ounce Cups (Pack of 12)
The noodles with soy sauce kneaded in them are full of flavor when they are boiled, and you can enjoy the sense of unity with the soup.
The soup is based on chicken extract filled with the flavor of chicken bones and chicken, with the flavor of garlic, ginger, onion and other potherbs giving it a refreshing yet rich taste.
In addition, the special spices attached bring rich flavor and sharp sharpness to the soup.
Review
*The soup has a refreshing taste with a spicy taste, and I think it is popular among all people.

*I always eat it with a lot of ingredients, but you can enjoy the flavor of the soy sauce flavored soup and the well-balanced taste of the noodles that go down your throat smoothly. It is a reasonable and profound dish that you can enjoy various flavors depending on the ingredients you put in.

*This is a standard dish. There are many kinds of soy sauce flavored instant ramen (Bagged), but I think it's addictive.

*Sapporo products are worth the extra money. The flavor is WAY better than any other of these type noodle/Ramen products. I keep a few at work for when I did not have time to make lunch.

*Very delicious!
Miso flavor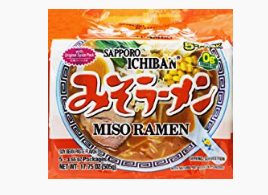 Sapporo Ichiban Ramen, Miso, 3.55 – Ounce Packages (Pack of 24)

by SAPPORO

Sapporo Ichiban Miso Ramen with Original Spice Pack, 17.5 Ounce (Pack of 6)

by Sapporo Ichiban
An exquisite blend of 8 kinds of miso, based on pork, which is characterized by its flavor and aroma, and a well-balanced soup with a rich flavor of fragrant vegetables bring out a deep flavor and flavor that is a bit different.
By kneading in miso, the noodles have an excellent sense of unity with the soup, and you can enjoy the chewy and supple texture.
The attached "Shichimi spice" brings out the flavor of the soup.
It is a long-selling product representing instant ramen that has been loved for a long time for making a flavor that goes well with any ingredients.
Review
*It's a ramen with a good flavor of miso, and it's a delicious noodle that goes well with miso soup.

If you stir-fry too many vegetables in the fridge and put them on top of the ingredients, you can make gorgeous miso ramen.

The well-balanced taste of miso soothes me.

*It is delicious ramen with the flavor of miso. The taste is strong and filling. The noodles are so delicious that you will get addicted to the soup.

*My favorite ramen, so glad I can order this online. I first had when I was in Japan and was sad that I could not find it in America. Now I still have it!

*nice quality ramen. Love the mild miss taste.
Salt flavor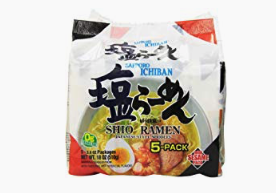 Sanyo Sapporo Ichiban Instant Noodle Shio, 3.6 – Ounce (Pack of 24) by SANYO

Sapporo Ichiban Shio Ramen Noodles, 5 Count, 3.6 Ounce
The flavor of chicken, pork, and vegetables goes well with the spicy rich salt soup and the chewy noodles kneaded with yam.
Attached "ground sesame seeds" adds rich flavor and stimulates the appetite.
Review
*It's light and easy to eat, so I recommend it.

It's delicious enough without any ingredients, and it's also delicious with vegetables like cabbage.

*The flavor is good, not over salty like some people think.

*so much better than the brands found at the typical American growth stores. I add an egg, and some vegetables and eat a pack for breakfast!

*one delete ramen! I add siracha, and a fried egg it is so good! The same goes well with the chicken. Good stuff!
Tonkotsu( pork bone flavor)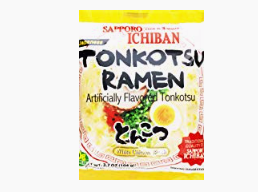 SAPPORO ICHIBAN INSTANT RAMEN (tonkotsu) 100 g X5

by SAPPORO

Sapporo Ichiban Ramen Artificially Flavored Tonkotsu, 3.7 Ounce (Pack of 24)

by Sapporo Ichiban
Soup-run pork bone extracts Umami flavor is combined with fragrant sesame and green onion to make a colorful soup that you won't get tired of eating.
The noodles are thin but firm and firm. We made the noodles straight without waving as much as possible and reproduced the noodles of tonkotsu ramen both in appearance and texture.
Review
*I discovered this flavor in one of those monthly boxes of stuff from Japan. These noodles were the best thing in the box, so glad I found them here. I hope Amazon sells more of them.

*This is pretty tasty ramen with a lot of same seeds inside the flavor packets.

*Absolutely delicious! Very rich and supported my expectations

*I live by some of the best ramen spots in Chicago and this is the closest to ramen you can get.
Chicken flavor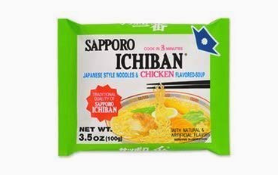 *Sapporo Ichiban Japanese Style Noodles and Chicken Flavored Soup, 3.5 – Ounce (Pack of 24

*Japanese Instant Noodle Chicken Flavor (Sapporo Ichiban) [10 units] by Sapporo Ichiban
The chicken flavor is not sold in Japan.
The plain chicken soup is popular.
Review
*This is exactly what I was hoping and dreaming of!

*Initially thought this was an instant noodle product, but it turned out to be more of a quick cook measure.

*It's got that chicken taste from Top Ramen you've come to love but has a bit more refinement to it.
Beef flavor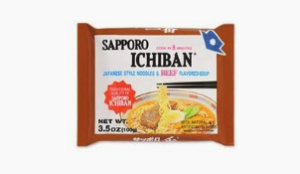 Sapporo Ichiban, Beef, 3.5 – Ounce Packages (Pack of 24)
This taste is not sold in Japan.
Soup with beef flavor goes well with noodles.
Review
*Delicious and goes great with runny egg yolk! Love this ramen! Has a great flavor that isn't watered down other packed ramens.

*Good, large portion, very mild for very versatile in what you can do with it.

*Great flavor, came in a surgically heavy, well-organized package
Shrimp flavor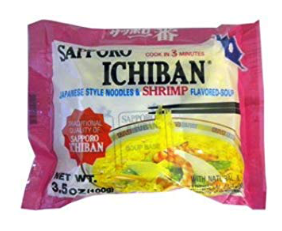 Sapporo Ichiban Japanese Style Noodles and Shrimp Flavored Soup, 3.5 – Ounce (Pack of 24) by SAPPORO

Sapporo Ichiban Japanese Style Noodles and Shrimp Flavored Soup, 3.5 – Ounce (Pack of 24
This taste is not sold in Japan.
It features a soup with a good smell of shrimp.
Review
*This is far more expensive but far more of a real taste means than another top ramen. Don't drink the broth though, too much sodium.

*Really only one word is needed for this review. YUM!!!