Asakusa is one of the most popular areas for foreign tourists.
Asakusa has various kinds of attractive places and you can enjoy the atmosphere of the good old days in the Edo Period.
The most famous spots and attraction are
Senso-ji
Nakamise
Jinrikisha
Senso-ji(浅草寺)
At the end of Nakamise Street is the main hall. The old hall that originally existed was designated as a national treasure, but it was destroyed by the Tokyo Great Air Raid during World War  II.
The current main hall was rebuilt after that and made of reinforced concrete.
The Omikuji, which is right next to the main hall, is written in English and can be enjoyed by overseas customers.
Kaminari-mon (雷門)
Kaminari-mon is the main gate of Senso-ji.
So many visitors go under the gate and you can find the big lantern written as "雷門".
When you go under the gate, you will see the long and narrow Nakamise Dori, which is a path to Senso-ji.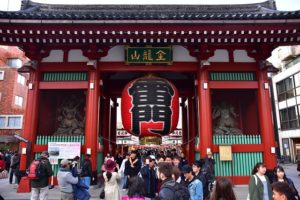 Nakamise(仲見世)
Nakamise is one of the oldest shopping streets in Japan with a length of 250 meters.
You will find approximately 90 small shops on both sides of the main street.
The shops have various kinds of Japanese goods, so it is better to buy souvenirs for foreign tourists.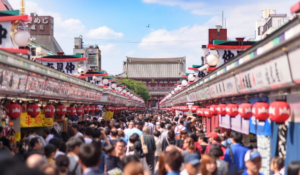 Jinrikisha(人力車)
Jinrikisha means a human-powered vehicle.
The English spelling for Jinrikisha is a rickshaw. It is considered that rickshaw is made from jinrikisha.
There are many rickshaws in a row in front of Asakusa Kaminarimon, waiting for customers. It is fun to go around the sights with a rickshaw, and it will definitely be a good memory of Asakusa sightseeing. There are various plans, such as easy short-distance run to time private
The fee of Jinrikisha is slightly higher than that of public transportation or even taxi.
However, you can definitely enjoy riding one, take pictures, and talk about it to your friends.
You can rise on a Jinrikisha alone or as a couple.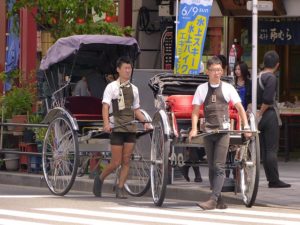 Kappa-Bashi (合羽橋)
Kappa-Bashi is located at the west of Asakusa and you can see various kinds of cooking utensils and tools.
Indeed, many Japanese professional cooks come to buy cooking knives and other utensils, but you can, of course, go shopping there.
Also, you may find food samples such as sushi, cakes, beers, etc.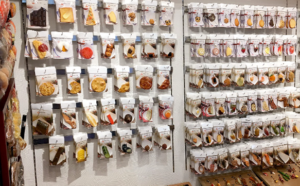 Asakusa is a very special spot in Tokyo, where the city is compact, but also deep enough to make a full sightseeing trip. Tourists from overseas, as well as those living in Tokyo, will benefit from a magical power of sightseeing in Asakusa. Please find an opportunity and visit Asakusa.