Asakusa is a famous downtown area in Tokyo where tourists visit from within and outside Japan.
Asakusa continues to evolve rapidly while cherishing the oldness. You can look at Tokyo Sky Tree from downtown, which is a scene unique to Asakusa.
Asakusa is so nice for tourists because of
Many old temples
Japanese sweet shops with green tea and matcha
Japanese crafts for souvenirs
Take a rest with enjoying Japanese sweets at a cafe
Here are the lists of recommendations for foreign tourists that most Japanese people suggest when they visit Asakusa.
Why don't you go out on a journey to reaffirm Japan's goodness to Asakusa, a popular destination from around the world?
Sensoji and Kaminarimon (Thunder gate)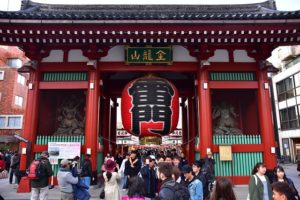 I recommend you to start your sightseeing in Asakusa from Sensoji and Kaminari gate.
Sensoji (浅草寺) is founded in 628, is known as the Asakusa Kannon (浅草観音), and is the oldest temple in Tokyo.
Approximately, 30 million people visit Sensoji each year.
The symbol of Sensoji is a large lantern, called "Kaminarimon (=the Thunder Date)".
Sensoji and Kaminarion were destroyed by fire in 1865, but it was rebuilt in 1965 by Konosuke Matsushita, who is a founder of Matsushita Electronics, currently known as Panasonic.
After the rebuilding, Asakusa has been the best place for tourists.
Sensoji at night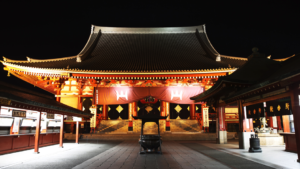 (Picture)
If you don't like the crowds during the daytime, you can go to Sensoji at night.
The main hall of Sensoji is lit up at night until 11pm and has a very fantastic atmosphere. It changes from the daytime when it is crowded with tourists, and you can explore the quiet grounds at your own pace.
Light up is not so flashy and you can enjoy the calm atmosphere of Sensoji main hall.
In addition, not only the main hall but also the Hozomon(宝蔵門) in front is lit up. This place is also recommended as a place where you can enjoy the atmosphere of Sensoji and Tokyo Sky Tree together.
Denboin(伝法院)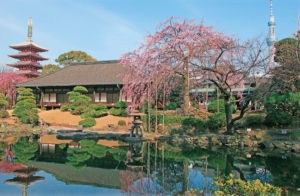 (Ref)
The garden of Senboji Honbo "Denboin" is a garden where you can go around the pond. You can see the garden, the five-storied pagoda, and Tokyo Sky Tree at once. The collaboration of "Edo" and "Tokyo" is a valuable tourist attraction. It is also known as a cherry blossom spot, and it will be displayed on a special schedule for a limited time each year from March to May.
Asakusa Shrine(浅草神社)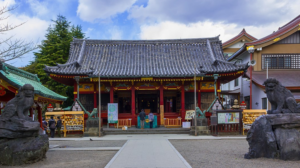 (Ref)
Do you know that there is "Asakusa Shrine", which is located next to Sensoji, a world-famous tourist attraction?
The benefits of the Asakusa Shrine are "hopeful fulfillment" that you can earnestly desire. In other words, it is an extraordinary benefit that you will receive whatever you wish.
You will find unique talismans that match your diverse interests.
There is also a "card guardian" that can be used as a point card. This card comes from the simple idea that it is easy to put in a wallet etc., and can usually be worn as a protective weapon and can be shopped as a point card in the city. Furthermore, since the revocation points are used to operate the shrine, it is a very modern amulet.
Asakusa Shrine is a shrine that honors the Sensoji Temple's distinguished people.
It used to be called "Sansha Daimyojin" because it scolded Three Gods. And in the Meiji period, it was renamed "Asakusa Shrine".
The nationally famous "Sansha Festival" is a major festival of this shrine, a traditional festival that has been going on for over 700 years.
Other Shrine and temple
Asakusa also has many shrine and temple, except for Sensoji and Asakusa Shrine.
Here are the popular ones.
Organ Inari Shrine(被官稲荷神社)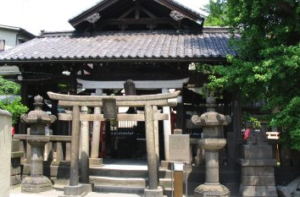 (Ref)
This Shrine, which is said to benefit from employment and career, is located within the Asakusa Shrine.
The shrine is very small with a frontage of 1.5 meters and a depth of approximately 1.4 meters.
This shrine remains unburned from the Great Kanto Earthquake and the air raids of the Pacific War.
As both Sensoji and Asakusa shrine are damaged, this fact is really miraculous!
The stone statues are lined up here and there.
Otori Shrine (大鷲神社)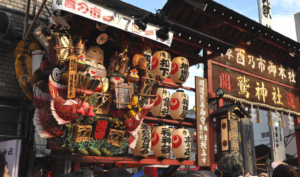 (Ref)
Originally, Otori Shrine is a prosperous god of business.
But it is reported that "Nade Okameme", which sits in the main hall, has different benefits depending on the face part.
For example, the black right cheek has the benefit of love fulfillment.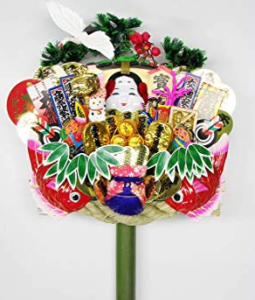 The flea market takes place in November and inherits the city's tradition that began in the Edo period.
Every time people buy "Engi Kumade(縁起熊手)" that brings in good fortune and goodies, the sounds of clapping and cheers emanate from here and there, and the grounds are full of enthusiasm.
The flea market in Asakusa is visited by more than 700,000 people!
The famous Otori Shrine are crowded with tourists, and it is difficult to line up for more than an hour.
Imado Shrine(今戸神社)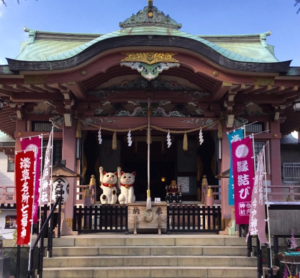 (Ref)
Imado Shrine is about a 15-minute walk from Asakusa Station. It is necessary to walk a little from the station, but worshipers do not cut off. The reason is that it is a well-known marriage and a well-connected power spot that is often featured in magazines and TVs.
Recently, it is also said that the lottery winning rate is up, and many people want to buy a good luck bracelet from the Imado Shrine Prayer. It is a reputation for being lucky in the interests of fortunes and good luck.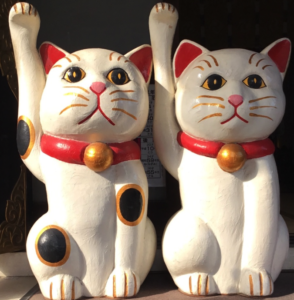 (Ref)
Cute beckoning cats sit down here and there in "Imado Shrine", inviting fortune. What is particularly striking is the huge beckoning cat that sits in the main hall!
Ushijima Shrine (牛嶋神社)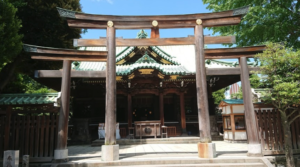 (Ref)
Ushijima Shrine is located in Sumida Park on the Sumida ward side.
Its origin is the Heian period of 860 AD and has a considerable history.
But it was relocated to Sumida Park at the beginning of the Showa period.
From the east side Torii, Tokyo Sky Tree can be seen beautifully on a very large scale.
On the north side of the ground, you can see a stone statue of a cow where you can pray for your physical and mental well-being.
Nakamisedori Street (仲見世通り)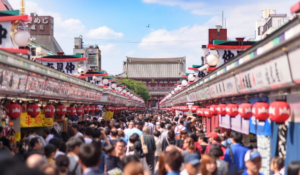 You can find so many sweets and foods in Nakamisedori Street.
There are nearly 90 shops on Nakamise Street, and so many tourists can be found on a daily basis.
You can try
Ningo-Yaki
Agemanju
Kibidango
These are Japanese traditional tea sweets.
Ningyo-yaki (人形焼)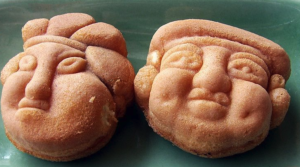 (Ref)
Ningyo-yaki means doll-like cake, which is sponge cake in various shapes filled with red bean paste.
One of the famous stores is the "Ganso Kimura Ningyo-yaki Honpo(元祖木村人形焼本舗)" founded in Meiji.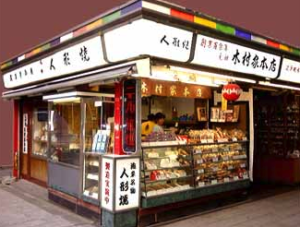 (Ref)
Anko (Red bean paste) is characterized by its elegant sweetness and pleasant taste. It is widely used for tea sweets and Asakusa souvenirs. As they always sell freshly baked Ningyo-yaki, I recommend you to buy and eat it.
Agemanju(あげまんじゅう:金龍山)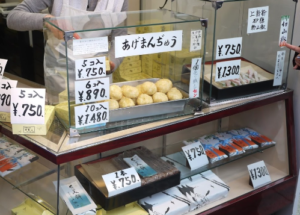 For those who like fried foods and sweets, we recommend the "Agemanju" from Kinryusan (金龍山).
Speaking of Asakusa Nakamise, many people may think of this first. It looks a bit greasy, but it's actually a famous Japanese sweet from downtown that you can eat surprisingly easily.
As they do not sell separately, we need to buy 5-6 or more. It is not bad to eat only one piece first, and then eat it for a hotel or during the trip.
Kibidango(きびだんご)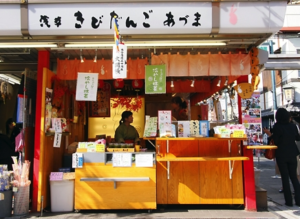 "Kibi-Dango Azuma" is a popular shop for foreign tourists who reproduces and sells "Kibi-Dango" which was in Nakamise in the Edo period.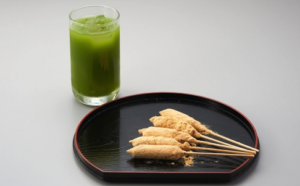 As there are eating and drinking space in the storefront, let's use that without eating and walking.
The cafe that you want to stop by during Asakusa Tourism
Asakusa has so many traditional Japanese style cafe that provides coffee, macha, macha-latte, Japanese sweets.
Here are the recommendations.
Coffee Tengoku (珈琲天国:Coffee Heaven)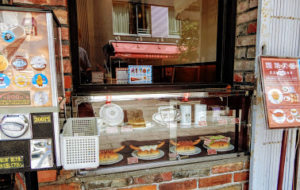 Recently, the pancake is popular and there are many popular shops and cafe.
Coffee Tengoku is such a cafe located in Asakusa.
For example, when it is a holiday, sometimes there is the procession of women in front of the store.
The most popular menu is hotcakes. The "天国 (= heaven)" logo engraved on the plate exudes nostalgia for Japanese people.
A hot cake featuring a crisp surface and fluffy contents.
Kagurachaka Puchi Asakusa(かぐらちゃかプチ 浅草)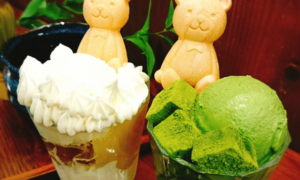 (Homepage)
Asakusa is a large collection of stores for Japanese tea and sweets such as green tea, rice cakes, and Anko (red bean paste).
In Kagurachaka Puchi, you can customize your parfait by yourself and can drink fresh green tea and matcha.
Akane Saryo(茜茶寮)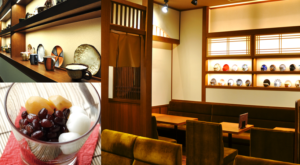 (Homepage)
Akane Saryo is a pure Japanese-style cafe that reproduces the Edo Period atmosphere.
A cup of coffee is displayed on the wall and you can relax on the spacious fluffy sofa or relaxing music.
There is also a single-seat counter and you can see the outside, so it's a shop that feels open.
From the foreigner's point of view, it seems to be popular, "This is a Japanese-style coffee shop!"
Original coffee, Matcha latte, Anmitsu or Japanese parfait are a popular menu.
Kagetsudo Asakusa(花月堂浅草)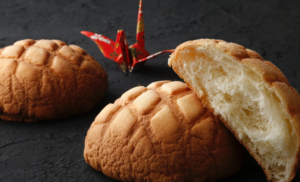 (Homepage)
This store is located near Sensoji.
Jumbo Meron-Pan(じゃんぼメロンパン)is the most popular sweet.
It is sold 3000 pieces a day.
Buying Souvenirs at Asakusa
How about Buying Japanese products as Souvenirs before leaving Japan?
Asakusa has so many shops for you including Japanese sweets, tea, traditional crafts, etc.
Here is a list of shops.
Marugoto Nippon(まるごとにっぽん)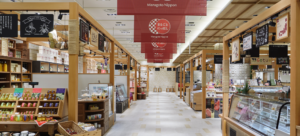 (Homepage)
Marugoto Nippon is a commercial facility offering gourmets and traditional crafts from all over the country.
The first floor is food, the second floor is daily necessities, the third floor is information transmission (demonstration/experience), and the fourth floor is a restaurant area.
You can enjoy a little sightseeing feeling by going around all floors.
Kappa Bashi(合羽橋)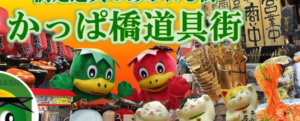 (Twitter)
"Kappa Bashi Tool Street" a specialty shopping street related to "food" that stocks items trusted by professionals.
A shopping street length is about 800 meters, responds to the needs of the food and beverage industry.
Currently, there are about 170 stores. There are a wide variety of store industries, including dishes, cookware, store signs, kitchen equipment, food samples, and much more!
There is also a focus on the business to professional chefs, and there are only 30% of shops open on Sundays and public holidays.
However, if it is Saturday, it will be 90% over, and almost all shops will be open on weekdays.
Inujirushi Kaban (犬印鞄製作所)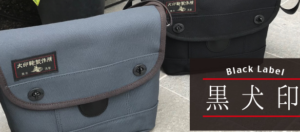 (Homepage)
Inujirushi Kaban is a long-established bag shop that has been constantly making excellent bags for over 60 years since 1953.
The bags consist of a casual shoulder bag, backpack, briefcase for commuting, and Boston bag for travel, etc.
As there is a product of real store-limited color, how about choosing as a souvenir of Asakusa?
Ekimise(エキミセ)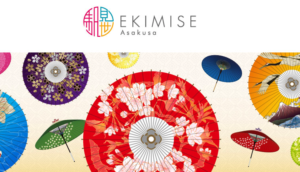 (Homepage in English)
There are shops dealing with traditional crafts and restaurants in various genres in the hall, and many young generation and foreign tourists can be seen. From the roof of the Halle Terrace, you can see a wide view of Tokyo Sky Tree from the foot to the top.
Let's tour Asakusa where the goodness of Japan is condensed!
Asakusa is condensed with
History and traditions of temples and shrines in Asakusa
Old-fashioned souvenir shops lined with shopping districts
Delicious gourmets in well-established stores
Please try sightseeing by all means in order to look at the goodness of Japan again