Do you want to know the restaurants for your dinner in the Ueno area?
There are so many restaurants in the Ueno area, so selecting one is a little bit difficult for you.
Don't worry!
I have selected the best restaurants for your purpose or interest (Yakiniku, Japanese Izakaya, Italian, French, and Spanish).
Please refer to the list when you are trying to eat dinner at Ueno, Tokyo.
Yakiniku Restaurants
Ueno Taisho-En :上野太昌園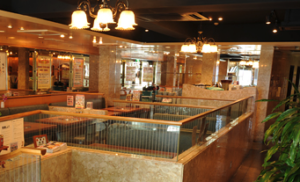 There are so many Yakiniku Restaurants in Ueno, Taisho-en is a long-established Yakiniku restaurant with excellent tastes.
When you want to have a delicious barbecue (=Yakiniku) dinner in Ueno, I would recommend you this store.
Eno-Aru-Machi(絵のある街)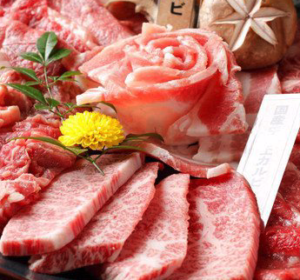 If you want to eat Yakiniku so much, this restaurant is one of the best restaurants.
In addition to enjoying high-quality Japanese beef, there is an excellent plan for dinner that you can drink anything at 3500 yen.
Please use it by all means when you want to eat meat.
Also, there is a completely private room so it's perfect for your private dinner.
Nikuya no Daidokoro(肉屋の台所)Ueno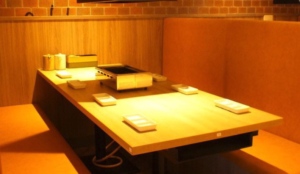 This restaurant is a Yakiniku restaurant where you can enjoy Japanese beef with all-you-can-eat service.
Courses are simple and some high-quality courses are available if you want to eat high-quality Japanese beef.
So you can enjoy along with your budget.
USHIHACHI Ueno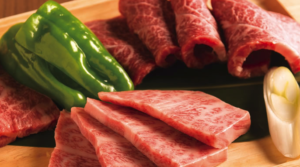 It is a restaurant where you can enjoy fine meat in a calm space.
Moreover, the store also handles many rare parts of beef, so I think that meat lovers will surely be satisfied.
The menu I want to recommend is "Special Calvi"  at ¥ 1,390 (excluding tax).
Please enjoy meat barbecue dinner in Ueno!
Izakaya
Farm Table:ファムテーブル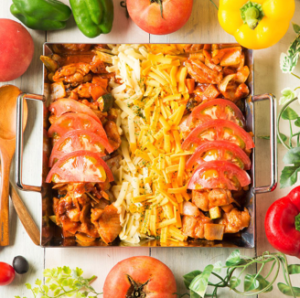 Because it is on the 7th floor of the building, you can overlook the night view of Ueno!
It is perfect for having dinner with your partner.
If you come to the Farm Table near Ueno station,  what you should eat is "Cheese Dakkarubi".
Usually, people use one type of cheese, but you can also use a blend of two types of cheese!
You can enjoy chicken, meat, and vegetables tangled with blended cheese.
Satoshima He Watare:佐渡島へ渡れ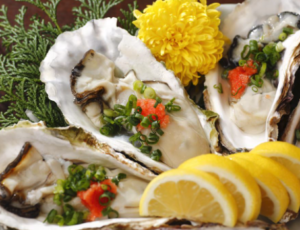 This Izakaya is recommended when you want to eat various kinds of seafood.
The most recommended menu are oyster, sashimi (raw fish), and Japanese sake.
Okinawa Dining Ryuka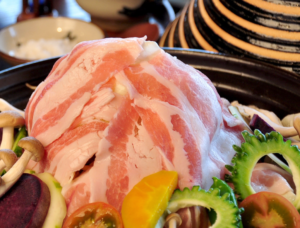 You can eat Okinawan food at Ueno.
You can enjoy various kinds of traditional Okinawa dishes. The ingredients are directly delivered from Okinawa.
Access to the restaurant is good because it is just a 3-minute walk from Ueno Station.
Torie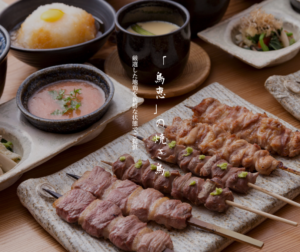 This restaurant is one of the bests for Yakitori (grilled chicken).
You need to reserve this restaurant because it is so popular and probably you cannot enter it directly.
Inshoutei(韻松亭)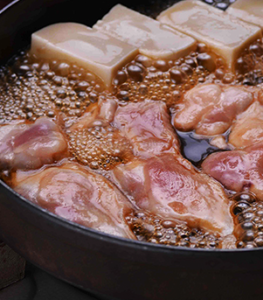 A long-established traditional Japanese-style restaurant founded in 1887.
you can enjoy Japanese foods while feeling the seasons of Shinobaji Pond and Ueno Park, one of Ueno's famous spots.
You can eat Sukiyaki, but the price is slightly higher than that in other restaurants.
Western Style restaurant
Sakurai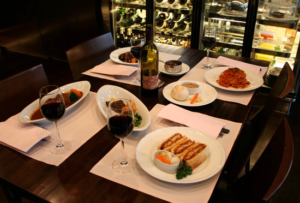 If you want to enjoy dinner with the modern atmosphere at Ueno, this restaurant is the best because it will provide carefully selected western dishes.
Also, it is recommended when you want to eat traditional omelet rice instead of recent fluffy omelet rice!
Of course, other than omelet rice, "tan stew" and "Neapolitan spaghetti" are also delicious.
The herbs & souces(Spanish restaurant)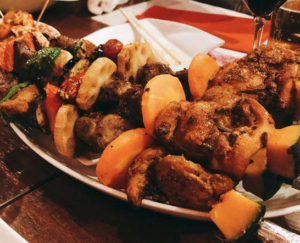 One of the best Spanish restaurants in the Ueno area.
Every dish is delicious, but prosciutto is highly recommended as it is very popular recently.
Vinuls(Spanish)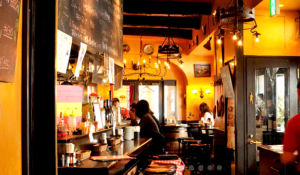 The Spanish Bar Vinuls is located in Atre Ueno and has a terrace seating area where you can have relaxing dinner time.
Every dish is full-scale and cost-performance is perfect.
Among all dishes, Paella is an excellent special one.
Paella filled with seafood tastes well with alcohol and will produce the best dinner.
I always try to make a full bottle instead of half, as the wine goes on when I visit for dinner.
Brasserie Lecrin(French)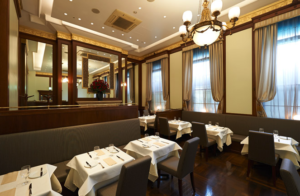 Brasserie Lecrin is a refined French style restaurant with a classical atmosphere.
This restaurant is made in the place where it was a former noble room in Atre building at the station.
Such background allows you to enjoy the Ueno dinner in a luxurious feeling, with a dignified and imposing atmosphere.
It is easy to use even when you want to escort your partner on a dinner for a birthday or anniversary.
Of course, the food taste and the hospitality of the staff are also extremely great.
restaurant à la Quiétude(French)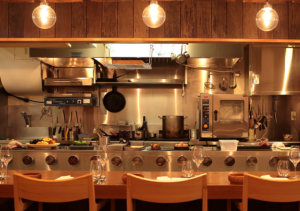 If you want to eat French food at dinner, this restaurant is excellent.
The main course starts with a solid appetizer, and you can also enjoy the art on the plate.
It's perfect with your friends, so please enjoy a happy time with a stylish dinner.
Ueno 500baru(Italian)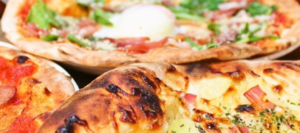 This restaurant is the best cost-performance for your dinner.
You can enjoy any kinds of pizza at 500 yen.
Also, the atmosphere of this restaurant is nice.
Cironbo Marina (Italian)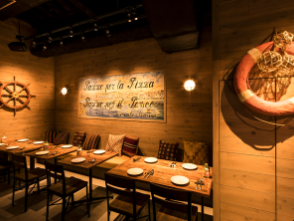 This restaurant was constructed from an image of a port town in southern Italy, and specialize in fresh seafood.
Many of the menus use plenty of fresh seafood.