Haneda Airport consists of the Domestic Terminal 1 and 2 and the International Terminal 3. It is spacious enough to travel by monorail, Tokyu Airport Line and free shuttle bus respectively.
When there is time before departure, there are many people who want to eat delicious ramen in Haneda Airport.
I will introduce a recommended ramen shop that even people living in Tokyo want to go all the way to Haneda Airport to eat ramen.
Ramen Setagaya Haneda International Airport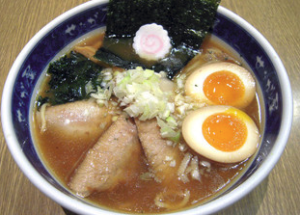 Ramen Setagaya on Edo-koji on the fourth floor of the international terminal.
Ramen is especially good for those who depart from international flights.
It is a popular ramen shop which has a branch in Taipei City as well as stores in each area of Tokyo.
The Setagaya ramen with all the popular toppings is filling.
We have char siu, Shimantogawa Aosa seaweed, half-boiled seasoned egg, and immovable all-star.
Aosa seaweed is directly delivered from Kochi prefecture and used without water soaking, so it has a rich aroma.
The soy sauce based soup with fish powder is superb.
Review
*The business hours are long, so it was a popular ramen restaurant that comes in handy when you want to eat ramen and tsukemen from morning to night.
*There is always a line at night.

This store is open 24 hours. But it is wonderful that you can eat ramen even late at night and early in the morning.
*The strong taste of seafood soup is very pungent.

It overlapped with the first meal after returning from a country without broth culture, and it was just delicious.

As for the inside of the shop, there are foreign staff and English is OK.
*You can eat it even in the middle of the night and the price is reasonable in the airport, so it's quite convenient.
*My favorite seafood soup.

Oil is floating on the top, but it doesn't taste greasy after all.

The char siu was soft, chewy and flavorful and delicious.
*Both ramen and tsukemen are delicious.

Char siu rice bowl is also delicious.

The salt ramen shop at Setagaya is also delicious.
Ramen Setagaya Haneda Airport
[business hours]

Normally 24 hours

8/1 only 5; 00 –

[Phone]

+81-3-5708-0899

[Address]

2-6-5 Haneda Airport International Terminal 4F, Ota Ward, Tokyo
Rokurinsha Haneda Airport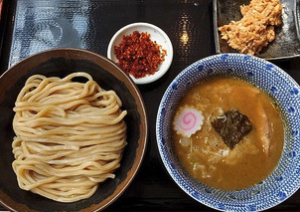 You can taste the ramen of a popular ramen shop, Rokurinsha at Haneda Airport.
It's on the 3rd floor of the international terminal, in the area where you can't go in without going through departure procedures.
The recommendation here is tsukemen.
The soup which is rich but you can eat it till the end without getting bored, and the tsukemen of Rokurinsha which is mixed with very thick noodles, is a bowl that I want you to taste.
Also, I recommend you to dissolve the fish powder in the soup little by little.
The flavor of fish gradually increases and you can eat while feeling the change of taste.
It is in the area after the immigration inspection, so it is good that it is not so crowded.
Review
*I want to eat it every time I go abroad from Haneda.Airport

If you haven't tried it yet, I recommend you try it.

I don't think it suits people who don't like thick noodles.
*I always drop by on business trips.
*A restaurant where you can enjoy rich tsukemen. Considering the amount, the price is reasonable.
Rokurinsha Haneda Airport 
[business hours]

24 Hours

[Phone]

+81-3-6428-0027

[Address]

Tokyo Sky Kitchen 3F, 2 -6 -5 Haneda Airport, Ota-ku, Tokyo
Yukiakari Blue Sky Dining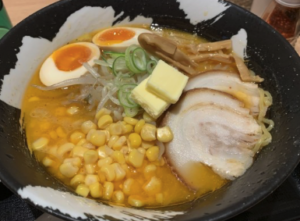 "Yukiakari Blue Sky Dining" on the 1st floor of Domestic Terminal 1 is a shop where you can enjoy Hokkaido ramen.
The recommendation of the restaurant in New Chitose Airport is the miso ramen with deep umami, sweetness, and richness.
In order not to fail to eat a lot of corn, a Chinese spoon with holes is provided, which is a nice consideration.
Review
*On my way home from abroad, I was hungry for a familiar taste, so I stopped by and it was unexpectedly delicious.
*I ate soy sauce roasted pork fillet noodles. The roasted pork fillet was small, so I felt it was not enough. The taste was delicious.
*The vegetable salt ramen was very delicious.
Yukiakari Blue Sky Dining
[business hours]

9: 00 -22: 00

[Phone]

+81-3-5757-9484

[Address]

Haneda Airport 1st Passenger Terminal 1 F, 3 -3 -2 Haneda Airport, Ota-ku, Tokyo
Tenhou  Haneda Airport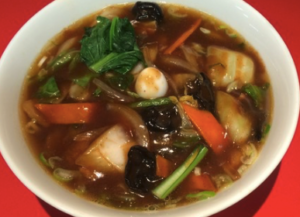 The Tenhou Haneda Airport shop is located on the second basement in the North Wing of the Domestic Terminal 1 building.
The hot Ankake Ramen Tenho noodle is recommended.
There are a lot of vegetables and ankake, and it is seasoned with soy sauce base.
It is superb when mixed well with noodles.
It is a popular drink with a taste that is addictive.
There are many other popular dishes such as hot and sour noodles and Sichuan Dandan noodles.
There are counter seats, and it's a restaurant where you can go casually by yourself.
It is a Chinese restaurant used by airport staff.
REVIEW
*I always stop by when I have time at Haneda Airport. An addictive taste.
* Many women came alone to the nostalgic shop where they felt the Showa era. When I ordered Tenhou ramen, was it Sanma-men? I could eat delicious ramen for the first time in a while.
*A ramen restaurant that recommends ankake ramen. There is various ramen such as tanmen, yakisoba, and fried rice.
Tenhou Airport
[business hours]

9: 00 -20: 00

【Tel】

+81-3-5757-9246

[Address]

North wing B1 of Haneda Airport Terminal 1 Building 3 -3 -2 Haneda Airport, Ota-ku, Tokyo
Haneda Ramen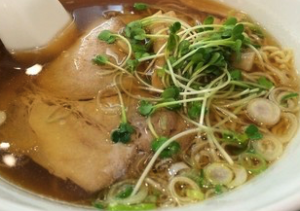 There is Haneda ramen right near Haneda Airport Terminal 1 station.
It is a spacious restaurant with 89 seats, and you can buy food tickets at the entrance.
The point is that it is easy to use even when you don't have enough time before departure.
There are many kinds of ramen, and there are many set menus and set meals.
The combination of the thin and chewy noodles and the soup that has been stewed for a long time is superb.
There are non-smoking seats, so it's an easy place to go with family.
Review
*It was Showa retro in Haneda Airport.

It's not cheap at 980 yen, but I ate Shio ramen.

I enjoyed this ramen which has a difficult balance between saltiness and sweetness.
*Thick animal flavor and spicy soy sauce flavor, noodles are ordinary Chinese-style noodles, low added-water medium thick and thin noodles.

The fried rice is light but normal.

The gyoza is well flavored with small garlic.

As a whole, the taste was so-so, and it was something you could eat in the restaurant on the top floor of a department store in the past.
Haneda Ramen
[business hours]

9: 00 -20: 00

【tel】

+81-3-5757-9012

[Address]

Haneda Airport 1st Passenger Terminal 1 F, 3 -3 -2 Haneda Airport, Ota-ku, Tokyo
Haneda Taishoken
Taishoken is known nationwide as the originator of tsukemen.
It is on the second floor of Domestic Terminal 1.
The main store is in Ikebukuro, but if you can't go, why don't you use Haneda Airport Store?
Of course, not only Tsukemen but also ordinary ramen are popular.
The soup is based on pig's trotters and chicken, and the flavor of fish such as dried sardines are added to it to make a rich soup.
The soup for dipping noodles has a light taste by adding seasonings, and it has a different taste. I can't decide which to choose, tsukemen or ramen.
Review
*It has a stable deliciousness.
*You know, it is a famous dipping noodle restaurant, and although the sour soup is delicious, I don't like this shop's dipping noodles because the soup gets thin while I'm eating, so I think ramen is more delicious.

I think it's a simple and safe taste that you won't get tired of.
Hata Taishoken
[business hours]

10: 00 -20: 00

【tel】

+81-3-5757-8851

[Address]

Terminal 2 F, 3 -3 -2, Haneda Airport, Ota-ku, Tokyo
Gyoza and Tanmen Ten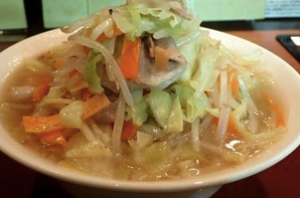 Gyoza and tanmen Ten is available in the marketplace on the first floor of the Domestic Terminal 2 building.
There are only Tanmen, Gyoza and beer on the menu.
I have an image that meals at the airport are expensive, but you can eat tanmen from 800 yen here.
It has plenty of vegetables and is lightly seasoned, so it is a perfect meal before the flight.
Review
*Very good for a lack of vegetables on a business trip!

The noodles were a little curly, and it was good even with a light flavor. I like adding a little chili oil and vinegar.

The gyoza skins are chewy and very delicious!
*During the waiting time, I ate tanmen, but it was unexpectedly delicious. The soup is delicious.This is the store I want to visit again.
*A restaurant serving Tanmen and Gyoza. It's very delicious.

The chemical seasoning is not strong, and the gyoza is chewy and meaty, so it's great.

I will stop by when I come to Haneda.
Gyoza and Tanmen Ten
[business hours]

10: 00 -22: 00

【Tel】

+81-3-6428-8558

[Address]

3 -4 -2 Haneda Airport, Ota-ku, Tokyo