Japanese people love cherry blossoms so much.
This is because cherry blossoms are regarded as a symbol of the transient nature of the world, such as blooming briefly and quickly falling and fading.
Hanami is the custom of gathering under the cherry blossoms.
Sometimes, people are eating foods and drinking beer and other alcohol beverage. It is not illegal to drink alcohol in the parks, so you don't have to worry about it in Japan.
Hanami is started 400 years ago when citizens at the time began to enjoy cherry blossoms parties as one of the entertainment in their ordinal life.
I will introduce the places where you can enjoy Hanami in Japan.
Hanami season generally starts from late March and ends on the middle of April.
Meguro Gawa (目黒川)
(from Homepage)
Characteristics of Meguro Gawa (Meguro River)
The most famous place for Hanami in Japan
800 trees of cherry blossoms
Late Match – Early April
A row of cherry blossom trees along the river is one of Tokyo's cherry blossom viewing spots.
Meguro River is the most popular spot where cherry blossom trees spread for about 4 km.
From Ohashi (大橋) to Shimomeguro (下目黒), cherry blossoms bloom in spring and are crowded with many flower visitors.
Also, along the Meguro River, there are many unique shops, and there are many people who enjoy shopping while viewing cherry.
Access to Meguro Gawa (River)
You can access to Meguro Gawa (River) from
Meguro Station (JR Yamanote Line): 10 min by walk
Fudomae Station (Tokyu Meguro Line): 5 min by walk
Nakameguro Station (Tokyu Toyoko Line): 2 min by walk
Ikeshiri Ohashi Station (Tokyu Denentoshi Line): 2 min by walk
There is no official parking area, So, you need to find private parking area when you drive to Meguro river.
Shinjuku Gyoen (新宿御苑)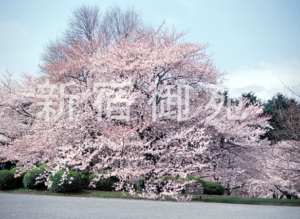 (Ref)
The characteristics of Shinjuku Gyoen are
The second famous place for Hanami in Japan
1000 trees of Cherry blossoms
Mid-February to Late April
1.2 million visitors for Hanami
Shinjuku Gyoen (新宿御苑) is an oasis in a large city, Shinjuku, with high-rise buildings rising above the sky.
There are about 65 different types of cherry blossoms in the park.
Because of this, you can enjoy watching for Cheery Blossoms over two months.
The cherry blossoms open their buds one after another, and the garden is very vivid and beautiful for the season.
From mid to late February, the early blooming cherry blossom will be at its best.
This time there are few flower visitors, and it is especially recommended for purposes such as taking a flower or taking a quiet walk.
Access to Shinjuku Gyoen (新宿御苑)
You can access to Shinjuku Gyoen by
Shinjuku Gyoen Mae Station: 5 min by walk
Shinjuku San Chome Station: 5 min by walk
Sendagaya Station: 5 min by walk
You need to pay ¥500 ($5) to enter the garden. Please be careful.
Also, in Shinjuku Gyoen, you cannot bring alcohol beverage unlike other kinds of parks.
Ueno Park (上野恩賜公園)
(Ref)
Features of Ueno Park for viewing cherry blossoms are
One of the top 5 parks for Hanami in Japan
Season: Late March to Early April
800 cherry blossoms
4 million visitors
This park is known as the mecca of Hanami since the Edo period (> 100 years ago).
800 pieces of the paper lanterns are lit in the park, and you can also enjoy cherry blossoms at night. There are many events, such as an antique market being, held around Shinobazu Pond.
Access to Ueno Park
You can access to Ueno park by
Ueno station: JR Line (Yamanote line, Joban Line), Tokyo Metro (Hibiya line, etc)
You can enter the park for free.
The park also has parking space at a price of ¥400 ($4) per hour.
Mouri Garden and Roppongi (毛利庭園 in 六本木)
Features of Mouri Garden and Roppongi for viewing cherry blossoms are
Season: Late March to Early April
13 trees in Mouri Garden and 75 trees in Sakura-Zaka
Light up: 5:30 pm to 11:00 pm
The 13 trees of cherry blossoms in the Mouri Garden takes its roots before Roppongi Hills's development. Also, they are considered as a symbol of the Mouri Garden.
In addition, Roppongi Sakurazaka parallel to Roppongi Keyakizaka Street has 75 cherry blossom trees lined up, forming a row of approximately 400m cherry trees.
Both are lit up as the cherry blossoms bloom.
You can enjoy observing cherry blossoms in addition to shopping at Roppongi Area.
Access to Roppongi
Mouri Garden is 5-7 minutes from Roppongi Station in Hibiya Line, Tokyo metropolitan.
There are several offician and private parking areas. They cost approximately ¥300 ($3) per 30 minutes.
Inogashira Park (井の頭公園)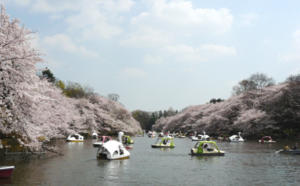 (Ref.)
The characteristics of Inogashira Park are
Best Hanami spot in western area of Tokyo
500 trees of cherry blossoms
660 thousand visitors
Light up: 6 pm to 10 pm
After leaving the city of Kichijoji, you will see Inogashira Enshi Park, which retains the image of the old city.
Approximately 500 cherry blossom trees bloom in the whole park centering on Inogashira pond, and it is wonderfully beautiful.
It would be nice to take a boat and look at the cherry blossom.
The view from Nanai Bridge in the park is also great.
Access to Inogashira Park
You can access to Inogashira Park:
Kichijoji Station in JR Chuo Line: 5-10 minutes walk
There are official parks in the park at a price of ¥400 per hour.
Kunitachi Sakura Street (国立市さくら通り)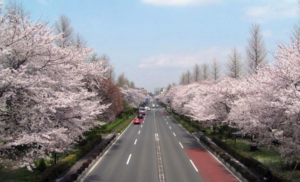 Characteristics of Kunitachi Sakura Street
Season: Late March to Early April
340 cherry blossoms
Light-up: 6 pm to 9 pm
The university street, which extends straight south from the south exit of the Kunitachi Station, is lined with large cherry blossom trees and entertains people on a seasonal basis.
Sakura Street is an east-west street ahead of the university street, and cherry blossoms are planted on both sides.
Cherry blossoms are in full bloom in both streets in spring
Access to Kunitachi and Sakura Street
You can access to Kunitach Sakura street from
Kunitachi Station (JR Chuo Line): 2-3 minutes walk