Narita Airport is the largest airport in Japan in terms of the number of international passengers, departures and arrivals, the number of cities in service, the total number of cities in service, the number of carriers, the number of airlines serving as base airports, and the amount of trade.
Passenger Terminal 1, Passenger Terminal 2, and Passenger Terminal 3.
There are also various shops and restaurants.
This time, we will introduce carefully selected Japanese restaurants that are popular at Narita Airport Terminal 1.
Homemade Kineya Mugimaru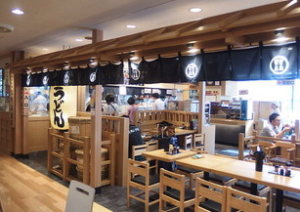 When it comes to Japanese soul food, Udon noodles. 
You can have udon noodles made at the shop every day. 
The shop is self-service.
You can enjoy freshly made and boiled udon at a reasonable price Kineya Mugimaru. 
Mild broth heals the tired stomach.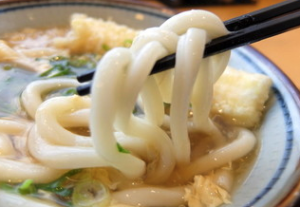 What makes me even happier is this rich menu! 
There are not only Udon but also Onigiri and Tempura. 
By the way, this restaurant is certified as halal so even Muslims can feel at ease.
Review
*a cordoned off Udon NODLE section in the food court (observation deck) of the airport.

its also halal, and has a great range. you queue to order and pay at the end of the line.

it always seems broken, but it's worth giving this a go because they taste amassing, and the prices are pretty chopped toe I reckon.
*Cheap, cheerful and fast.

 I used the old to take a photo to show my selection trick. 

Skip the tempura tough. 

Free water.

 Chilli oil available as well as other condiments. 

The beef was flavorful, fatty but not over-so, with a nice clear broth. 

It was good you could just add feelings of seizure and when you spent 5.
*Excellent food great price

*It's a little-known place! It's cheap because you can eat udon before leaving the country! Cheapest inside the airport!
Kineya Mugimaru Narita International Airport Terminal 1
[business hours]

7: 30 -21: 00

[Address]

Terminal 1, 5F Furugome 1, Narita, Chiba Prefecture 

【Tel】

+81-476-32-7877

【HP】
Dashi Chazuke (Rice with tea) En  Narita Airport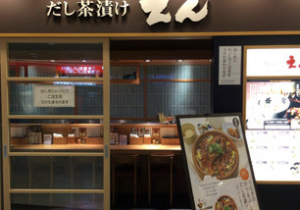 It's a small restaurant with only a counter, but I recommend Ochazuke (rice with tea) when you want to keep your stomach in order before you go abroad.
 It's hard to find Japanese soup stock which is the basis of Japanese cuisine overseas. 
Also, my stomach is tired because of overseas gourmet… This is a restaurant that I would like you to visit immediately after returning home.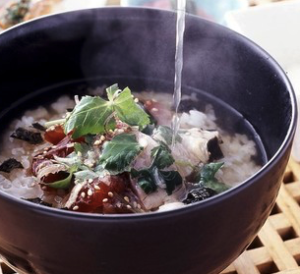 It was made to be slightly different from ochazuke eaten at home Ochazuke (rice with tea). The refined dashi stock made from various ingredients such as kelp, dried small sardines and "Golden" is poured over rice topped with fresh ingredients!
For those who are hungry, I recommend the Half & Half which you can enjoy 2 flavors at once. 
You can choose 2 kinds from your favorite menu.
Dashi stock was poured Ochazuke (rice with tea).
The taste of the soup stock spreads throughout the body. 
It was a moment when I realized that I was Japanese.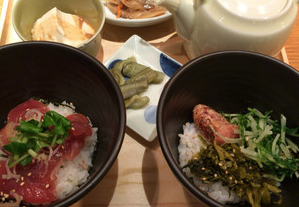 Review
*When I go abroad using Narita Airport, I often eat Ochazuke here before leaving the country and also eat Ochazuke here after returning home. That may be the reason, but I feel that Ochazuke here is superb. Especially when I eat Ochazuke here after I go back to my country, I feel very relaxed and I always feel like I am Japanese and I like it very much.
*It was a small shop, with limited choice. Provided should mean that either raw fish (sashimi) or roasted one on rice set.

We saw the size of the mean not so much and thought that it was just right as we had had the in-flight breakfast not long ago. 

End up found that they taste great and the quantity just right for the breakfast.
・This is the first measure I take in Japan on my 2019 visit.

It makes a great start for the trip. 

While enjoying the simple and fresh food, I was full of expectation in the coming food I could have in Japan! 

Keep it up! Lots of supporter standing in front of your shop!
*Located inside terminal 1 of Narita airport. 

This gem offers chazuke. 

Which is tea dashi broth that you pour over rice and the seafood of your choice

A great meal that's not too heavy.
Dashi Chazuke En Narita Airport
[business hours]

7: 30 -21: 00

[Address]

Chiba Prefecture, Narita-shi, Sanrizuka Goryo Bokujo 1 -1 Narita Airport, Passenger Terminal 1, Chuo Building 4F

【Tel】

+81-476-33-1796

【HP】
Sushi Misaki Port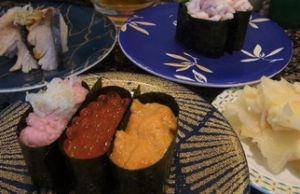 Nowadays, you can eat sushi overseas, but it is difficult to eat a variety of fresh fish like in Japan. 
For those who like sushi, I recommend Seafood Misaki Port.
 It's a conveyor belt sushi restaurant, so it's nice that it's easy to drop by when you're a little hungry.
The airplane deck on the observation deck is right in front of you! 
The location is called. 
It's quite nice to be able to see airplanes from the shop. 
Please enjoy both rotating sushi and airplanes taking off and landing.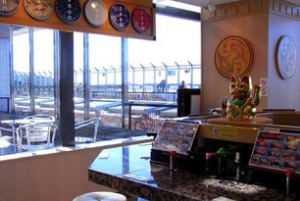 The Chef's recommendation of the day is posted on the blackboard every day. 
I would like to use it before leaving the country and after returning home.
Review
*You can eat delicious sushi at a reasonable price.
*Fresh ingredients, large and friendly to foreigners.
*I always go there when I have time to change trains after returning from abroad.

My body reminds me that Japanese food is delicious.
*The topping and rice are a little small, but the fish is delicious. 

The price is reasonable for the airport.
*The sushi that you eat while looking at the airplane through the window is delicious.

There are some cases where it is sold out, but this is proof of its popularity.

Conger eel, eel, and grilled dishes are also delicious.
[business hours]

9: 00 -20: 00

[Address]

Terminal 1, Furugome 1, Narita, Chiba Prefecture 5F

【Tel】

+81-476-33-5022

【HP】
gihey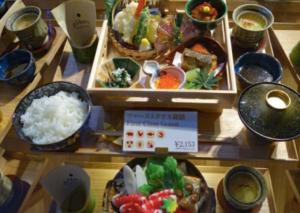 gihey (Gihei)  is a new brand of the famous rice restaurant  8th Gihei in Kyoto Gion and Tokyo Ginza.
They opened the restaurant at Narita Airport to let foreigners taste delicious rice.
This is a restaurant where you can enjoy delicious rice that is made with great care.
The five-star rice meister is using blended rice made by checking the production areas of the country with his own eyes.
The rice is cooked in a unique earthenware pot and served.
And you can have as much rice as you like!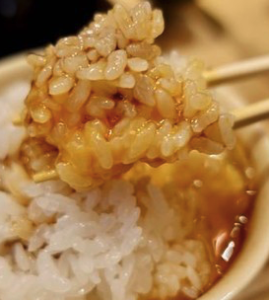 You can enjoy a very luxurious Japanese meal.
I would like to recommend it to overseas customers.
I also recommend Morning Set Onigiri (rice ball).
 After all, the Japanese are white rice.
Review
*Delicious rice even without any side dishes.

Thanks to you, I had refills 3 times.

The meal is very delicious.
*I highly recommend this restaurant when I want to have a high quality set meal at Narita Airport!

It comes with rice with scorched rice (Free-flowing refills), main dish, side dish, miso soup, and chawanmushi and costs 1500 to -2000 yen.
・I had the yakiniku set meal, and the amount of meat was so much that I could eat a lot of rice!

It was the last meal in Japan before the flight, the first meal about Japan, and I was very satisfied with the meal.
・I was curious about the side dish of rice such as seasoned cod roe and salmon roe.
*I will eat rice here before I go abroad.
gihey Narita Airport
[business hours]

8: 00 -20: 00

[Address]

Chiba Prefecture, Narita-shi, Sanrizuka Aza Goryo Bokujo 1 -1 Narita International Airport First Passenger Terminal Building, Chuo Building, 4F NC 416

【Tel】

+81-476-32-8188

【HP】
Japanese  Soba Tomita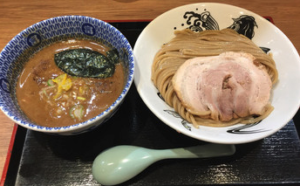 You can't miss ramen before you leave! Good news for you. 
You can eat the ramen of "Tomita", a famous restaurant in Matsudo City, Chiba Prefecture that represents Japan and requires a long queue, at Narita Airport.
Tomita is a very thick and thick dipping noodle with a rich and thick soup.
You have to wait in a long line to eat at the main store, but you can eat smoothly here.
Of course, the taste is as good as that of the main store.
When it comes to Tomita, Dipping noodles tends to attract a lot of attention, but in fact, you can also enjoy Chinese soba, so it's safe for those who want to eat warm ramen. 
This Chinese soba has a nostalgic and gentle taste that will make Japanese feel relieved.
Review
*I found out that Tomita is at Narita Airport Terminal 1, so I went there after my business trip. It was early in the morning and I could eat without waiting. 

The service was good, and it was delicious anyway. I want to go to the main store someday.
*I wandered around the terminal to have a meal on my way back from Singapore and somehow decided to stay here. 

The thick noodles with a firm texture and the rich soup were surprisingly light.
*Pay first eat the best Ramen in town after. Very wonderful. Fast service and with drink and special of the day I paid $12.0. I think it is the best value in the airport for size and quality.
*If you don't know, this shop has to amass ramen-soup and dry. 

The noodles are chewy and the fish-based stock and oil is addictive. 

You'll be glad that you take time to eat this for your last meal in Tokyo on your way home.
Japanese Chinese Soba Tomita
[business hours]

8: 00 -20: 30

[Address]

Chiba Prefecture, Narita-shi, Sanrizuka Goryo Bokujo 1 -1 Terminal 1 Central Building 4F

【Tel】

+81-476-32−8673

【HP】