There is Yojiya, a famous Japanese cosmetics shop in Kyoto, and its cafe in the Haneda Airport Passenger Terminal 1.
Original Japanese cosmetics are popular among tourists.
Also, the cafe attached to it is popular because you can feel the Japanese atmosphere of Kyoto and enjoy the Japanese cafe menu.
I will introduce Yojiya and Yojiya cafes in Haneda Airport Passenger Terminal 1.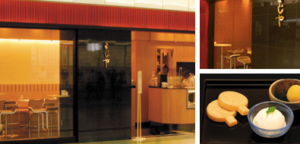 What is Yojiya?
Yojiya is the brand name of a Japanese cosmetics company based in Kyoto City that sells mainly oil blotting paper.
One of Japan's leading brands of oil blotting paper.
It was founded as a store in Kyoto City in 1904.
The toothbrush, one of the main products at the time, was called "toothpick" and was nicknamed "Yojiya san Yojiya san" which triggered the shop's name Yojiya.
After that, when they moved to another place in Kyoto city, they renamed it Yojiya.
It currently operates retail stores mainly in Kyoto City, selling about 320 cosmetic products, cosmetic goods and original beauty goods such as brushes, hand mirrors, and face lotions.
The production of original cosmetics had been discontinued for a long time since the end of World War II, but in 1993, they released original cosmetic goods and in 2000, they began to produce and sell basic cosmetics.
They also have Yojiya Cafe in Kyoto Prefecture and Terminal 1 of Haneda Airport, and they serve dishes that are inspired by the woman in the hand mirror on the signboard.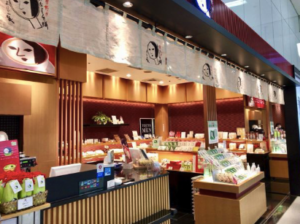 Products famous for Yojiya
Yojiya is a famous oil-blotting paper.
1 book is 326 yen plus tax.
The face mark of Yojiya  is printed on this package.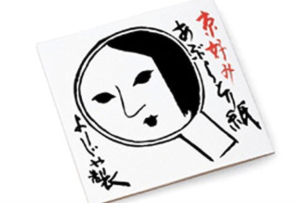 Yojiya Cafe Haneda Airport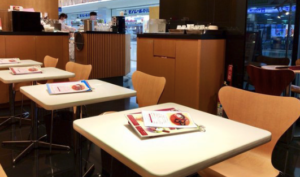 There is a Yojiya integrated cafe in the Passenger Terminal 1 of Haneda Airport.
There is a Yojiya cafe next to the shop where you can buy Yojiya original goods.
At cafes, "Yojiya Cappuccino" with Yojiya face mark has a strong impact and is popular.
In addition, it is popular among customers of various ages as a sweets shop in Haneda Airport by enriching Kyoto-like Japanese sweets.
They also have sandwiches and Yuzu flavored pasta (Limited quantity), and you can use it for your meal.
From the orthodox cafe menu, You can enjoy a variety of dishes from Kyoto.
You can buy a famous product, oil blotting paper at the shop attached to it.
There is also an airport limited item "oil blotting paper aloe".
The location is marked by Passenger Terminal 1, the Tower of the Sun.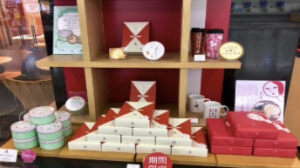 Yojiya Cafe Menu
Drinks
*Yojiya's special cappuccino (hot/ice) 628 yen + tax

*Yojiya green tea cappuccino (Hot/Ice) 628 yen + tax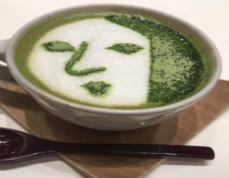 Dessert
*Warabi mochi parfait 761 yen + tax

*Japanese parfait 666 yen + tax

*Warabi mochi 476 yen + tax

*Green tea blancmange 523 + tax

*Temari Zenzai (Hot/Ice) 761 yen + tax

*Monaka set 857 yen + tax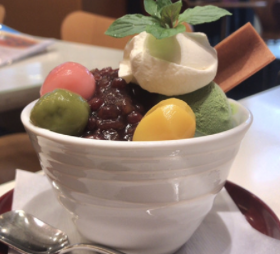 Morning Set Menu 7: 00 am -11: 00 am 
※ Morning menu + drink set

*Kyo no Yasashii Asagayu 750 yen + tax

*Ume no Hana Japanese-style sandwich 904 yen + tax

*Tofu hamburger sandwich 904 yen + tax
Pasta Lunch Set Menu
*Pasta + drink ¥1250 + tax

*Pasta + drink + ice cream 1350 yen + tax

 

*An example of pasta

*Yuzu Flavored Pasta With Yuba Tofu Skin And Kyoto Shibazuke Pickles

*Pasta with Tamba black beans and dried baby sardines in tomato sauce

Meals vary according to the season.
Review
*The parfait is delicious and looks voluminous, but it is satisfying even if you eat it, and the cost performance is good.
*There is a logo on the cold glass and the wet towel, and it is cute and soothing.
*The Japanese style sandwich is a toasted toast with tofu hamburger steak and hijiki seaweed.

It is flavored with soy sauce for a Japanese style. Since it's lightly seasoned, you can eat it quickly and it's healthy.

 
*You can relax with a coffee in the morning. 

The place is underground so it's not so noisy.

While I was resting at the cafe, I could buy Yojiya goods such as oil blotting paper.

 
*When I happened to look at it, the glasses and wet towels were all good.

It was the last day of the trip and I felt tired, but I was very healed.

I would like to visit again when I travel.

 
*There is an area in Haneda Airport that anyone can use, so people other than flight passengers can enjoy Yojiya's cafe without going to Kyoto.

Of course, I can buy popular items, so it's good. I recommend the latte with that design.

When you enter the shop, you can see the shop's logo on the water glasses and wet towels.

 
*It is a small cafe and opens from 7 AM.

It is good that I can also buy souvenirs.

 
Information 
Yojiya Cafe

【business hours】

 7: 00 -20: 00 (LO: 19; 00 Cafe)

【Tel】

03-5757-8363

【Address】

 Haneda Airport 3-3-2, Ota Ward, Tokyo, Passenger Terminal Building B1F

【Yojiya Cafe HP】

【Yojiya HP】