Japan's March will gradually begin to get colder. Spring is approaching the ancient city of Kyoto, which is a thousand and two hundred years.
Many unique cherry blossom landmarks nurtured in a long history.
From popular standard spots to exciting places and lighted up cherry blossoms, we will also introduce the best time and access information for cherry blossom viewing.
Tetsugaku-no-mich: Philosopher's walks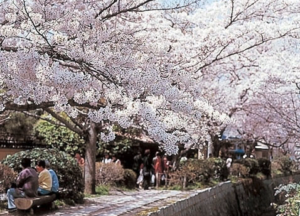 At the foot of Higashiyama, a row of cherry blossom trees that lasts.
The "Philosopher's Walk" is a narrow path that runs along the river from Ginkaku (銀閣) to Nyaku-Oji Shrine (若王子神社).
As the philosophers Nishida Kitaro and Tanabe Gen took a walk while thinking about the philosophy, the road was named the philosopher's walk.
A variety of flora and fauna are inhabited around the easily maintained road, and many people enjoy walking regardless of the season.
Cherry Blossom in Tetsugaku-no-michi: Philosopher's walks
The light red tunnel made by about 400 cherry trees planted on both sides of the river is overwhelmingly beautiful.
The tastes of cherry blossoms and floating petals reflected in flowing water are also beautiful.
It is the best scenery that you want to take a photo involuntarily.
During the season from the end of March to the beginning of April, there are so many tourists.
It's a good idea to walk while feeling the gorgeous spring breeze and philosophy.
Access to Tetsugaku-no-michi (Philosopher's walks)
You can access to Tetsugaku-no-michi
Ginkaku: 2-minute walk from the bus stop at Ginkaku
Link to google map
Maruyama Park (円山公園)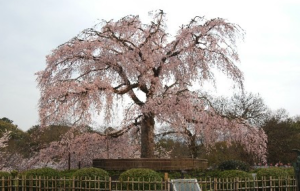 Maruyama Park, located to the east of Yasaka Shrine, is one of Kyoto's leading cherry blossom sites.
Above all, the weeping cherry tree in the center of the park is called "Gion's Night Cherry Blossoms" and is beautifully lit up during the flowering period from late March to mid-April.
The magnificent figure of 12 meters in tree height and 2.8 meters in the trunk is worth seeing.
Access to Maruyama Park
Access to Maruyama Park:
Gion-Shijo (祇園四条) Station (Keihan Line = 京阪線): 10-minute walks
Higashiyama (東山) Station (Hankyu Kyoto Line = 阪急京都線): 10-minute walks
Gion bus stop (Kyoto City Bus): 1-minute walk
Nijo Castle (二条城)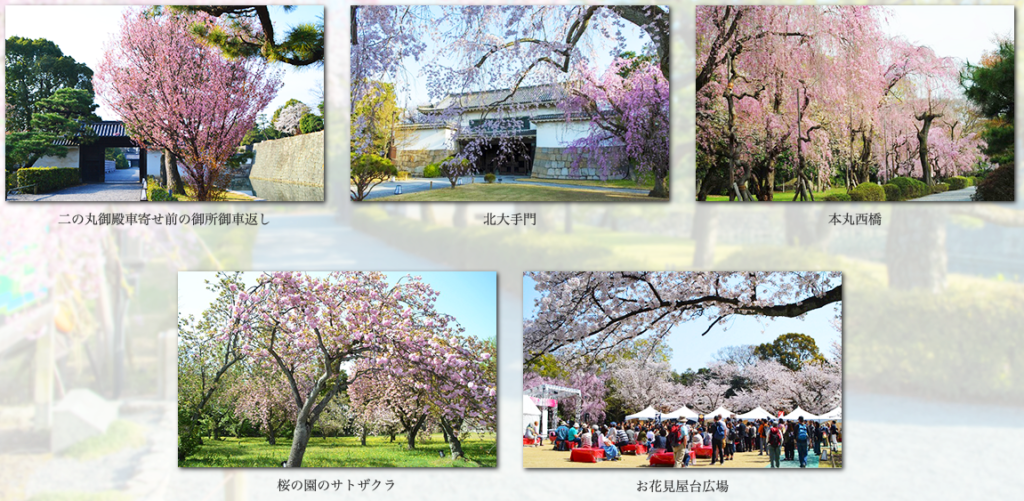 (Homepage)
Nijo Castle is famous for the symbol of the end of Tokugawa Era, and it had been built by Tokugawa Ieyasu and been completed to the present scale by Tokugawa Iemitsu.
Nijo Castle is registered as a World Heritage Site.
In the castle, the Ninomaru Palace is designated as a national treasure, and the Ninomaru Garden is designated as a special landmark.
In the castle, there are 50 varieties and approximately 300 cherry blossoms.
You can enjoy cherry blossoms during "Nijo Castle Cherry Blossom Festival".
In addition, in the night view, the historical buildings and the cherry blossoms are lighted up, inviting visitors to a fantastic world.
Night view: 6 pm to 9 pm
300 thousand visitors per year
300 cherry trees
Cheery blossom festival: Late March to Mid-April
Access to Nijo Castle
You can access to Nijo Castle by bus or subway:
Nijo castle (二条城前) station in subway: 5-minute walk
Nijojo (二条城) of bus stop: 1-minute walk
You need to pay ¥600 ($6) to enter the castle.
Heian Jingu (平安神宮)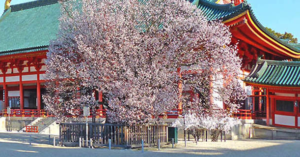 Heian Jingu was built in commemoration of 1100 years after Heian transfer of the capital.
The shrine has four gardens arranged in north, south, east and west, and you can enjoy different tastes in each garden.
The southern garden, immediately after entering from the entrance, is also known as "Heian En (平安の苑)", and has been popular as a famous spot for the weeping cherry blossoms.
Season: Early April to Mid-April
300 cherry trees
Light up: 6 pm to 9 pm
250 thousand visitors per year
Access to Heian Jingu
You can access to Heian Jingu by bus or subway:
Subway: Heian Jingu Station (10-minute walk)
Bus: Heian Jingu
To enter Heian Jingu, it takes ¥2000 ($20).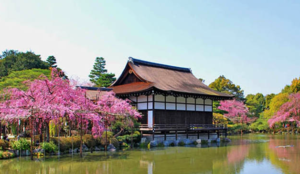 Kiyomizu-dera (清水寺)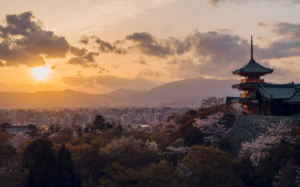 (Ref)
Kiyomizu-dera is a gold standard of Kyoto sightseeing.
It is also a cherry blossom viewing spot where about 1,000 cherry blossoms color the grounds in the spring.
The best timing for viewing cherry blossoms is in early April.
A special evening visit is held from March 29 to April 7, 2019, and you can enjoy the fantastic night cherry blossoms that are lit up.
Access to Kiyomizu-dera
You can access to Kiyomizu-dera by bus or train
Bus: Gojo-saka (五条坂) (10-minute walk)
Train: Kiyomizu-Gojo station in Keigan Line (25-minute walk)
¥400 ($4) is needed to enter Kiyomizu-dera
All are the sights that can fully enjoy the taste of Kyoto and the energy of the blooming cherry blossoms.
Let's visit Kyoto for a wonderful cherry blossom landscape.