Here are the top 5 castles in Japan.
I will introduce the beautiful Japanese castles.
Knowing the historical background, it seems to be more fun to visit the castle.
There are many castles where you can enjoy cherry-blossom season during the coming season. So please try going out.
1. Himeji Castle (姫路城)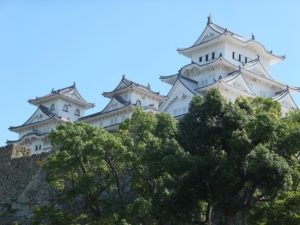 Himeji-jo is a wonderful world heritage that Japan is proud of.
Recently, It was overhauled for over five years.
Whether you look it from afar or nearby, you will see a beautiful appearance.
Himeji Castle is as beautiful as its name as if it were a pure white wall like a white squirrel in the blue sky.
There were also many foreign tourists.
Every place in the building is a photo spot.
Brochures of various languages are available and I was very impressed.
2. Takeda Castle (竹田城)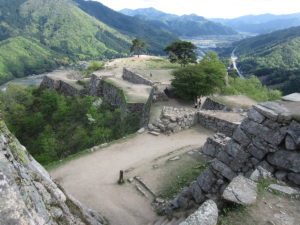 Takeda Castle has made a big boom as a castle floating in the sea of clouds.
It is also called "castle in the sky" or "holy land of the lover".
Unfortunately, about 400 years ago, the castle per se was abandoned, and now only stone wall remains.
It is located on the mountain top of Kojo-san (古城山), approximately 353.7 m in altitude.
So, we need to climb the mountain from the nearest parking lot for about 20 minutes.
You can enjoy hiking with climbing shoes or easy walking shoes.
(※ January, February will be closed)
3. Osaka Castle (大阪城)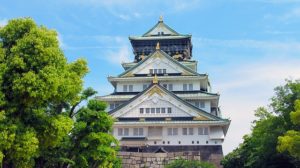 Osaka Castle was registered as a registered tangible cultural asset of Japan in 1997.
It is an 8-storey building consisting of a museum and an observatory.
You can see the streets and towns of Osaka from the observatory on the top floor.
As there is an elevator in the castle, the elderly and the wheelchair are also safe.
4. Kumamoto Castle (熊本城)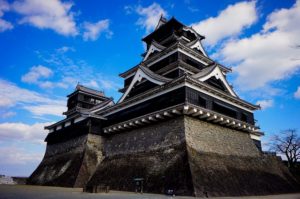 Due to the Kumamoto earthquake in 2016, some places in Kumamoto Castle do not enter, such as castle towers and Honmaru Goten (main room).
However, the 6th floor on the top floor is a magnificent spot overlooking Mt. Aso.
In addition, it is a must see luxurious mural paintings that restored the time of the castle built.
5. Matsumoto Castle (松本城)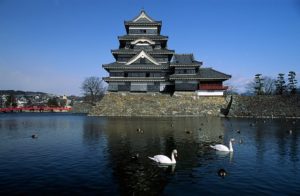 Matsumoto Castle, one of the national treasures, has the oldest five-layer castle tower in Japan.
The highlight of Matsumoto Castle is a white plate of white plaster and black lacquer.
It is a wonderful view of the beautiful outer wall.
Also, taking pictures with those with ninja costumes is fun, if you can find them.