Takoyaki is a ball-shaped Japanese snack made of a wheat flour-based batter and cooked in a special molded pan.
It is typically filled with minced or diced octopus (tako), tempura scraps (tenkasu), pickled ginger, and green onion.
Takoyaki is brushed with special sauce (similar to Worcestershire sauce) and mayonnaise and then sprinkled with green laver (aonori) and shavings of dried bonito.
There are many variations to the takoyaki recipe across the regions in Japan. For example, ponzu (soy sauce with dashi and citrus vinegar), goma-dare (sesame-and-vinegar sauce) or vinegared dashi.
There are a lot of Takoyaki shops in North(Umeda) and South(Namba) parts of Osaka and you are so hard to choose one to try.
Therefore, we will introduce delicious Takoyaki shops, which is loved by local Japanese people and easy to stop by.
The North Area: Called Umeda area.
The northern area is around Osaka station and other main station
Aizuya Umeda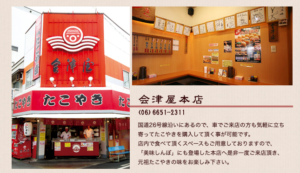 The famous menu "Ganso (=classic) Takoyaki" is 9 pieces at a price of 380 yen.
This shop is acclaimed for "real Takoyaki" in the famous manga "OISHINBO; Japanese cuisine".
The main office is located in the downtown area of Osaka.
You will feel the good smell of Dashi; soup stock in front of Aizuya.
It is characterized by the fact that it has no source on the Takoyaki.
As it was in the famous manga: "OISHINBO", it is an elegant Takoyaki that brings out the taste without using the sauce.
It is delicious even if it gets cold.
Aizuya Umeda store

Address: 3-2-Umeda Umeda, Kita-ku, Osaka, Osaka Prefecture Umesankoji

Business hours: Mon-Fri = 11:00 to 22:30, Sat = 10:00 to 22:30, Sun and Public holidays 10:00 to 21:30
Hanadako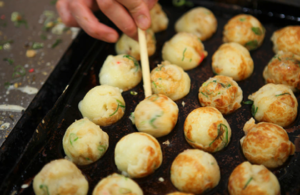 On the way from Hankyu Umeda Station to JR Osaka Station, it is very close to these stations.
A classic Osaka Takoyaki is fluffy inside and outside. Dashi (soup stock) works well and is delicious!
The price is 420 yen for 6 Takoyaki, which is a slightly higher price range for Osaka. But it is an acceptable range considering the location and taste!
Hanadako

Address: 9-16 Shinodada Esophagus, Kita Ward, Osaka City, Osaka Prefecture

Opening hours: 10: 00-23: 00 (open all year round)
Shioya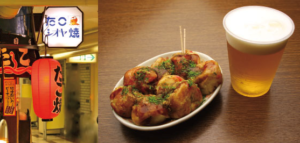 "Shioya" is only 30 seconds by walking from "Hanadako"
Aunt is working alone in a small store.
The price is so cheap; 230 yen for eight Takoyaki.
The amount of the Takoyaki batter is a little stronger.
The rustic taste is made from the original combinations of batter and the delicious sauce.
Takoyaki Shioya

Address: 9 Kudadacho, Kita Ward, Osaka City, Osaka Prefecture

Opening hours: Mon-Fri = 15:00-23:00, Sat = 14:00-22:00, Sunday break

The south area; Called Namba area

Around the famous sightseeing area: Dotombori and America village
The Southern Area: Namba
Wanaka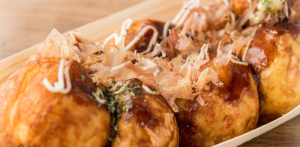 It is located next to Namba Grand Kagetsu for Yoshimoto Shinkikichi.
You can buy 8 pieces of Takoyaki at the price of 400 yen.
The Takoyaki batter taste is delicious.
It has a fluffy texture, and there are other variations in the sause types, such as "boiled salt," "soy sauce," and "spicy sauce."
It is the classic Osaka Takoyaki.
Wanaka Sennichimae Main Store

Address: 11-19, Nanba, Chuo-ku, Osaka, Osaka Prefecture

Opening hours: Mon-Fri = 10: 00-23: 00, Sat, Sun, Holiday = 8: 30-23: 00
Takoyaki-kun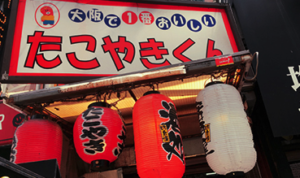 "Takoyaki-kun" is located 15-seconds walking from "Wanaka".
The price is 280 yen for 7 pieces of Takoyaki, so reasonable pricing.
The takoyaki uses a lot of Tenkasu (tempra scraps).
There is a unique system that you can season the grilled Takoyaki by yourself.
The delicious sauce is made with white wine; so you taste fruity.
Its taste is accented with the crunchy feeling of the Tenkasu.
Takoyaki-kun

Address: 10-13 Nanba, Chuo-ku, Osaka City

Opening hours: 11:00 to 21:00 (Tuesday closed)
Jyuhachiban (18 ban)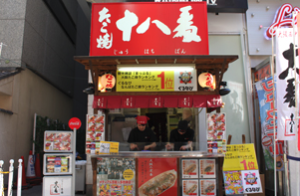 It is located in the Dotonbori area, the middle of Osaka.
There is always procession in front of the store.
It is characterized by a lot of Tenkasu  (tempura scraps) for Takoyaki.
The texture is crispy because of the large amounts of Tenkasu.
Its taste is like snacks using a large amount of small shrimp powder as well.
Takoyaki Jyushiban Dotonbori branch

Address: 1-7-21 Dotonbori, Chuo-ku, Osaka, Osaka Prefecture Nakaza Kuidare Building 1F

Opening hours: 11:00 to 21:30 (open on Sunday)
Kogaryu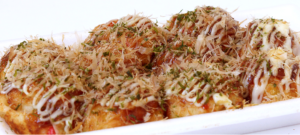 It is located in the American village and is popular with young people.
The price is 350 yen for 11 pieces of Takoyaki.
Younger generations in Osaka think that it is cool to eat takoyaki at this store in the American village. This feature is similar to the fact that youth in Tokyo eats crepes in Harajuku.
Source + mayonnaise is a combination that can be seen in various Takoyaki shops now.
But the original combination of these are famous as "Koga-ryu"
The fluffy texture of takoyaki is characteristic of the store.
Kogaryu

Address: 2-18-4 Nishi Shinsaibashi, Chuo Ward, Osaka City, Osaka Prefecture

Opening hours: 11:00 to 20:00 (open until 22:00 on the day before Friday-Saturday-Congratulation)